Sarcosperma arboreum Hook.f., Gen. Pl. 2: 655 1876. (syn: Sideroxylon arboreum Buch.-Ham. ex C.B.Clarke, pro syn.);
.
Sikkim to S. China: Assam, Bangladesh, China South-Central, China Southeast, East Himalaya, Myanmar, Thailand as per POWO;
.
---
Location : Hualtu, Mizoram
Altitude : 600 – 1,500 m.
Date : 
11/02/2007 (Flowers)
 and 08/06/2007 (Fruits)
Habit : Middle-sized evergreen tree with scented flowers.
Habitat : Wild

---
Machilus species in eFIoraofindia (with details/ keys from published papers/ regional floras/ FRLHT/ FOI/ efloras/ books etc., where ever available)
---
Same as in Machilus sp. for ID
---
---
Date : Fl.-11-02-2012. Fr.-08-06-2012.
Habit : Middle-sized evergreen tree. Habitat : Wild.
Location : Hualtu, Mizoram. Altitude : 600 – 1,400 m.
---
May I request you to pl. post a high resolution image of Thingbuhchang (2).JPG, to check with the keys.
---
---
Pl. check with
Machilus parviflora
as per these keys and as per 
GBIF
 specimens:
---
This is Sarcosperma species. Most likely Sacrosperma griffithii.
The fruits are not eaten by humans, but are eaten by wild animals like bears, palm civets, etc. Some white latex is coming out from unripe fruits, etc. ?
---
Thanks, …, What are the species reported and what are the keys?
---
Sarcosperma arboreum is recorded in Mizoram
---
Thanks, … What about Sacrosperma griffithii ? Is it reported ?
---
My one specimen was identified as S.griffithii at National Herbarium, Howrah, but this identification was wrong, I think
---
Yes, it should be Sarcosperma arboreum as I can see glandular pits the axils of abxial surface as in GBIF specimen as per keys from Flora of China:
---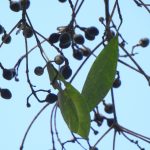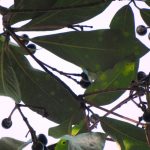 MS Oct,2021/30 Lauraceae ? for id: 6 images- 1 high res.
Location : Ailawng
Date : 16-08-2018
Habit : Large tree
Habitat : Wild
---
Looks so !
---
Any idea about the genus of this Lauraceae (?) member?
---
This is Alseodaphne. I do not know the species.
---
Maybe Persea… kindly also check Persea kingii
---
Persea is a new world genus. All the Asian members of Persea belong to Machilus.
---
To me appears to be the same as in earlier observations at Sarcosperma arboreum
Isn't ?
---
I think, it's different species.
---
Looks different from Machilus kingii as per GBIF specimens- one and two, due to persistent calyx.
What are the species of Alseodaphne listed in your book?
Pl. also post high res. images, to check the details.
---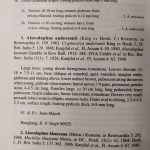 ---
---
Looking at the fruiting calyx, I still feel it is Sarcosperma arboreum only as per GBIF specimen.
---
---
.
References: POWO  Catalogue of Life  The Plant List Ver.1.1  WCSP  IPNI  Hong Kong herbarium  GBIF– specimen 1  specimen 2 (High resolution specimens) Flora of China  FOC illustration  India Biodiversity Portal  IBIS Flora (FBI- Sarcosperma arboreum Buch-Ham ex C.B.Clarke)