Aconitum lethale Griffith, Not. Pl. Asiat. 4: 732 1854. (syn:Aconitum atrox (Brühl) Mukerjee; Aconitum balangrense Lauener; Aconitum balfourii Stapf; Aconitum deltoideum Lauenar; Aconitum falconeri Holmes ex Stapf; Aconitum laciniatum var. fractiflexum Lauener; Aconitum patulum Tamura; Aconitum spicatum (Brühl) Stapf; Aconitum tamuranum Lauenar; Caltha codua Buch.-Ham.);
.
Himalaya to S. Tibet: East Himalaya, Myanmar, Nepal, Tibet, West Himalaya as per POWO;
.
Common name: Balfour's Monkshood • Nepali: गोबरी Gobaree
.
---
Family: Ranunculaceae
Altitude: 3000 meters asl
Date: 15th August 2012

---
Forwarding again for validation pl. as it looks different from images at Aconitum violaceum
---
Raised helmet, branched inflorescence, suggest A. laeve
---
---
Looks different from images at Aconitum laeve
Appears close to Aconitum lethale as per FOI, POWO, Plant illustrations
---
.
---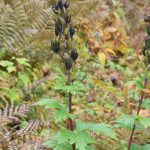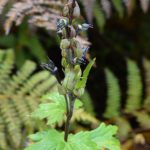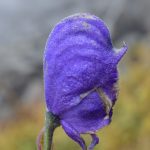 Aconitum species. it seems lethale: 3 images- 1 high res.
please check the attached images of Aconitum species. it seems lethale to me.
Captured – Madhmaheshwar Uttarakhand.
Oct 2021
Alt – 4000m approx.
---
I guess it is matching !
http://temperate.theferns.info/plant/Aconitum+lethale
---
---
.
References: POWO  Catalogue of Life  The Plant List Ver.1.1  FOI  Plant illustrations  GBIF (High resolution specimens) India Biodiversity Portal Useful Tropical Plants