Lysimachia nummularia L., Sp. Pl. 148 1753. (syn: Ephemerum nummularia (L.) Schur; Lysimachia nummularia f. longipes (David) Nikolic; Lysimachia nummularia longipes David; Lysimachia repens (Gilib.) S. F. Gray; Lysimachia repens (Gilib.) Stokes; Lysimachia rotundifolia F. W. Schmidt; Lysimachia suaveolens Schoenh. ex Garcke; Lysimachusa nummularia (L.) Pohl; Nummularia centimorbia Fourr.; Nummularia prostrata Opiz; Nummularia repens Gilib.);
.
Europe to SW. Siberia and NW. Turkey: Native to: Albania, Altay, Austria, Baltic States, Belarus, Belgium, Bulgaria, Central European Rus, Czechoslovakia, Denmark, East European Russia, France, Germany, Great Britain, Greece, Hungary, Ireland, Italy, Krym, Netherlands, North European Russi, Northwest European R, Norway, Poland, Romania, South European Russi, Spain, Sweden, Switzerland, Turkey, Turkey-in-Europe, Ukraine, West Siberia, Yugoslavia; Introduced into: Alabama, Arkansas, British Columbia, California, Colorado, Connecticut, Delaware, District of Columbia, Finland, Georgia, Illinois, Indiana, Iowa, Kansas, Kentucky, Louisiana, Maine, Maryland, Massachusetts, Michigan, Minnesota, Mississippi, Missouri, Nebraska, New Brunswick, New Hampshire, New Jersey, New York, North Carolina, Nova Scotia, Ohio, Ontario, Oregon, Pennsylvania, Primorye, Prince Edward I., Québec, Rhode I., South Carolina, Tennessee, Vermont, Virginia, Washington, West Virginia, Wisconsin as per POWO;
.
---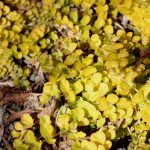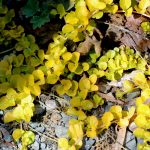 Lysimachia nummularia 'Aurea' from California-GS05022021-1
Lysimachia nummularia 'Aurea'
Trailing herb with orbicular to ovate-orbicular leaves and axillary yellow flowers. Cultivar 'Aurea' has golden coloured leaves.
Photographed from University of California Botanical Garden, 22-4-2019
---
---
.
References: POWO  Catalogue of Life  The Plant List Ver.1.1  IPNI  Wikipedia
http://www.missouribotanicalgarden.org/PlantFinder/PlantFinderDetails.aspx?kempercode=t120
https://www.aquasabi.com/Lysimachia-nummularia-Aurea-pot
https://www.invasiveplantatlas.org/subject.html?sub=5975