VU (Vulnerable) as per Wikipedia;

Ternstroemia wallichiana (Griff.) Ridl., Fl. Malay Penins. 1: 198 1922. (syn: Erythrochiton wallichianum Griff.; Mokofua penangiana (Choisy) Kuntze; Taonabo wallichiana (Griff.) Szyszyl.; Ternstroemia macrocarpa Scheff.; Ternstroemia penangiana Choisy);
.
Bangladesh to Malaya, Lesser Sunda Islands (Flores) as per POWO;
.
Java, peninsular Malaysia (Kedah, Penang Isl., Kelantan, Perak, Pahang, Selangor, Melaka, Johor), Singapore, Thailand, Andamans (Middle Andamans, South Andamans), Nicobars (Central Nicobars), Myanmar [Burma] (Ayeyarwady, Bago, Rakhine, Taninthayi), Bangladesh, Vietnam as per Catalogue of Life;
.
---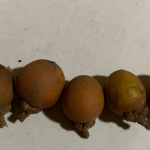 Fruit for ID, Andaman NAW-FEB21-06
If possible, kindly identify this fruit from Andaman – the local name is "Rehath" – could it be Cordia subcordata?
---
Is it eaten ? Where the images were taken in Andamans ?
Looks different.
Ill add more pictures of other details when i can, hopefully next month.
---
This is found even around Port Blair.
---
This is Ternstroemia wallichiana
Ternstroemiaceae
Local  Name: Jungli Sapota
Look at the accrescent clayx.
Manilkara
does not have acrescent calyx like this. Though some species of
Diospyros
are having accrescent calyx, it is different.
---
---
.
References: POWO  Catalogue of Life  The Plant List Ver.1.1  IPNI  GBIF (High resolution specimens)  IBIS Flora Wikipedia  ecoregister