Torilis arvensis (Hudson) Link ?;
.
Europe to Central Asia and Pakistan, Macaronesia, N. Africa as per POWO;
.
---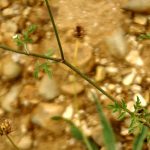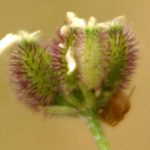 Torilis arvensis from Kashmir-GS10042021-1: 3 images.
Torilis arvensis Huds
Similar to T. japonica in habit but much more slender, rays fewer, involcre bracts usually absent, rarely up to 3, spines less sharply curved, ribs less prominent.
Photographed
from Tapiana, Sialkot near Baramulla, Kashmir, alt. 1800 m, 27-7-2011. 
T. leptophylla, also lacking involucre bracts has much longer straight spines on fruits.
---
However, 
CoL 
shows distribution of 
Torilis arvensis 
subsp.
 neglecta
 (Spreng.) Thell. in NW Himalaya (POWO treats many of its synonyms under 
Torilis arvensis
 Huds).
Also not listed in Flora of India as per details at 
Torilis
---
Here is 1988 paper
---
.
References: POWO  Catalogue of Life  The Plant List Ver.1.1  Flora of Pakistan