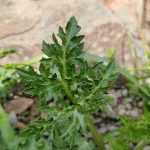 Which species of Malva it is… Location kashmir: 1 high resolution images.
---
Not Malva, looks like Silybum
---
I concur with … Wait for the flowers for the species ID.
---
If Silybum, it has to S. marianum. There were few isolated patches in Kashmir valley, when I left Kashmir in 1975. May be it has spread more by now.
---
Looks different from images at Silybum marianum
Detailed images are required for proper id.
---
Also could not find a match as per comparative images at Carduoideae
---
We should wait for flowers
---