Miliusa codonantha Chaowasku, June 2013 Willdenowia 43(1):101-105;
.
East Himalaya as per POWO;
.
Common name: Bellflower Miliusa
.
---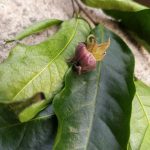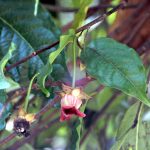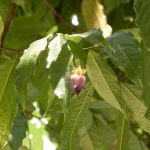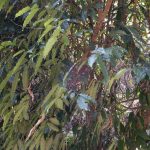 TQ-Manipur10 – Unidentified tree from Manipur: 4 images.
A tree found near a waterfall
in Manipur. Found flowering in early April.
Elevation 700-900 m above sea level.
Any clue to identity is welcome.
---
please check the following 3 URLs for any probability –
Plant illustration 1
Plant illustration 2
Plant illustration 3
---
Yes, it's possible
---
Thanks … for the lead. The sepals (if they are really sepals) of my plant are quite large compared to what I see in the drawings in your links. But let me follow this lead and explore.
---
I think it is Miliusa codonantha, a species described in 2013. I am attaching a picture from the original paper, and another images of my plant. There (open access) paper is here:
The plant in the pictures looks in general like Miliusa codonantha I described, but the sepals seem slightly larger. Have you counted the number of stamens and carpels per flower? This can help confirmation if it is M. codonantha.
---
,
---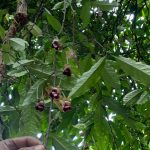 Request identification of a wild vine from Manipur:
Please help identify this attached flowering woody vine imaged at Manipur?
---
Can you post a high res. image and side view of the flowers?
---
Unfortunately this was a one time click while my friend was trekking to Siducharu falls in Manipur.
Google images shows a strong resemblance to Eunonymus occidentalis? Could it be Eunonymous species local to India such as Eunonymus assamicus? Unable to locate it's picture though.
---
Does not look like Euonymus
---
Any other photos??
---
May I request you to pl. post the high res. image.
---
This was a quick capture during a trek. Will need to revisit and click a better resolution image.
---
This is Miliusa codonantha
---
Thanks a lot for this.
It appears to be newly discovered in 2011!
Found the discovery report here
https://bioone.org/journals/willdenowia/volume-43/issue-1/wi.43.43111/Miliusa-codonantha-Annonaceae-a-new-species-from-the-Indian-eastern/10.3372/wi.43.43111.full
More images here :
https://www.flowersofindia.Bellflower%20Miliusa.html
---
---
.
References:
POWO  Flowers of India
Miliusa codonantha (Annonaceae), a new species from the Indian eastern Himalaya, with a new combination, M. dioeca