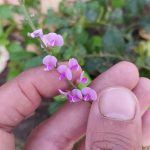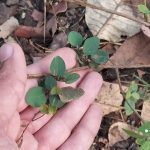 need id of pinkish legume: 2 images.
Bhopal; black soil
12/4/2021
---
Desmodium
---
I tried but could not find a match as per comparative images at Desmodium
---
Seems Desmodium rotundifolia if plant is trailing.
---
I think it is Desmodium gangeticum– poor growth
---
I too agree with …,
suggested ID is correct,
---
One 
Desmodium rotundifolium
 Wall. (syn. of 
Desmodium styracifolium
(Osbeck)Merr.) is reported from India, which looks different as per
It seems to be a miniature form of Desmodium gangeticum. But we need fruit images for confirmation.
---