Miquelia dentata Bedd., Madras J. Lit. Sci. III, 1: 38 1864. ;
.
S-India (Tamil Nadu, Kerala) as per CoL;
.
---
Glabrous climbers. Leaves to 16 x 7 cm, ovate, apex acute, base rounded or truncate, dentate, more sharply near the base; petiole 3-4 cm long. Flowers unisexual, in peduncled globose spike; peduncle to 6 cm long; calyx cupular, 4-toothed; petals 4, 3 mm long, oblong; stamens 4 or 5, in male flowers; ovary 1-celled, 4-angled, style absent, stigma 4-angled, ovules 2, pendulous. Drupe to 2 x 1 cm, 3-8 together, ovoid, sessile, yellow; seeds 1.5 x 1 cm, stalked, pitted.
Flowering and fruiting: April-September
Evergreen and semi-evergreen forests
Southern Western Ghats
(Attributions- Dr. N Sasidharan (Dr. B P Pal Fellow), Kerala Forest Research Institute, Peechi)
.
---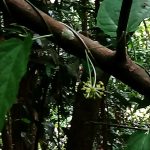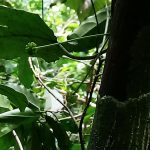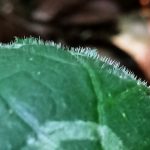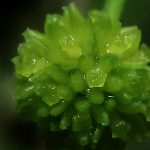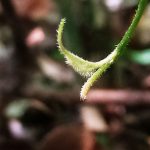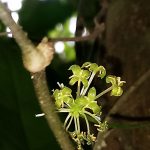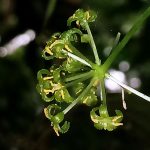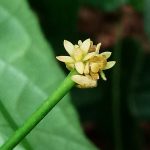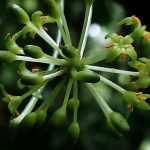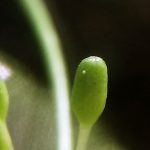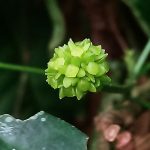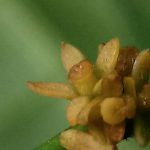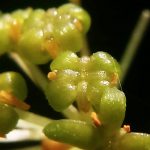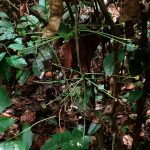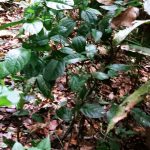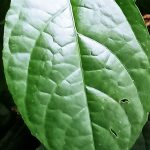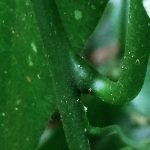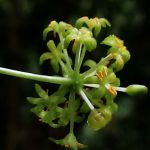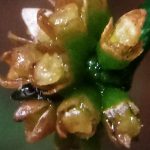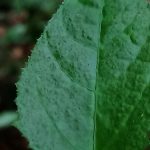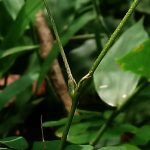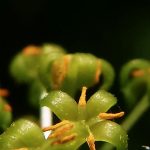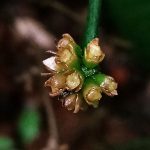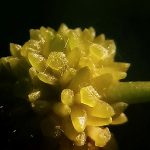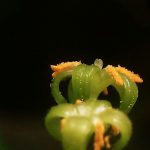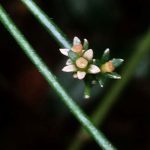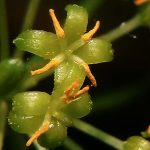 88 ID wild plant: 30 high res. images.
Please ID wild plant,
Location: near Reserve Forest, Chathamattom, Ernakulam District, (Kochi) Kerala PIN:686671
Flower date: 29.04.2021, 10.05am
Altitude: 1400fsl
Habitat: wild moisture
Plant habit: separate male and female plants having all characteristics similar except flowers, climbing, slender stem, long lasting
Height: 05 meters
Leaves: alternate, oval, oblong, apex
Flower: globular racemose, diameter:03mm, green, non fragrant
Fruit: green into brown, diameter:13mm, not edible
Seed: brown, oval, size:3×1mm
Camera: mobile LG K10 2017 13mp +macro lens
---
I see several plants of this kind, but male flowers only in one plant and female flowers in two plants only,
---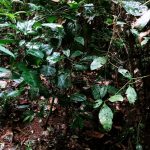 Sharing female plant's habit image.
---
This is a Critically endangered climber called Miquelia dentata, Icacinaceae, one of the best plants used against cancer.
---
Great …, great. The male flower (I am thinking as it is male) image is very correct in googling, but the female flower images and fruit images….
---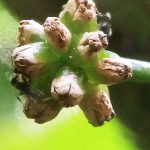 Sharing a fruit image globular (not single, totally) diameter:08mm captured using macro lens,
---
This is the female infructescence of Miquelia dentata. Only very few people closely seen it, hence few photos available in google search
---
Ok, thank you for the information sharing.
Today I have been there, I didn't see any fruits in the said plant and it is in this way, my concern about how it's propagation….?  So it is remain as endangered!!
---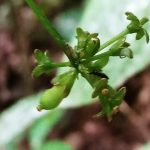 Yes, it is female.
I am happy to share fruits image,
1 image.
---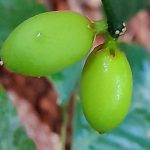 Many fruits (size:2×1cm) of
M. dentata
, just misunderstood by me. Sharing more images, there is no sunlight, the brightness is automatically adjusted by camera,
---
---
.
References: POWO  Catalogue of Life  The Plant List Ver.1.1  IPNI  GBIF (High resolution specimens) High resolution specimen  Flora of peninsular India  India Biodiversity Portal Kerala plants  Wikimedia Commons