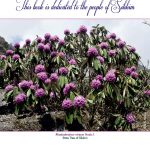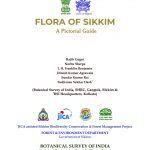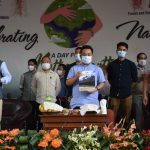 My latest book release "Flora of Sikkim-a pictorial guide": 4 images.
I am happy to share the following news items related to my latest book release……………..
News in the Hindu
Sikkim blossoms: smallest State home to 27% of India's flowering plants
News in Sikkim Chronicle
In MOEF & CC
regards
.
---
Release of Flora of Sikkim in MOEF & CC Twitter handel:
I am happy to share with you all………….
https://twitter.com/moefcc/status/1413165299289845763
Rajib Gogoi
Regional Head, BSI, Gangtok
---
Wonderful work.
Congrats to the authors, for having undertaken such a herculean task.
---
The book contains checklist of 5068 taxa (including 152 cultivated taxa), belonging to 1491 genera & 209 angiosperm families that are occurring in Sikkim with updated nomenclature & distribution.The book details the geography, ecology, vegetation pattern & forest types of Sikkim.
---
The book contains about 2000+ coloured photographs of about 1350+ species from Sikkim Himalaya and is authored by Rajib Gogoi, Norbu Sherpa, J.H. Franklin Benjamin, D.K. Agrawala, S.K. Rai and S.S. Dash.
---
Unfortunately no hard copy will be available because of high cost of printing.
---
"interested one can book for a hard copy with the authors"
Press is willing to reprint because of high demand, if they get order from someone want to buy.
---
Congratulations to Dr. Rajib Gogoi JI
---
Many Congratulations !
---
Hearty congratulations Dr Gogoi ji !!!
---
Hearty congratulations Gogoi ji
---