Viola cinerea var. stocksii (Boiss.) Beck., Beih. Bot. Centralbl. 36: 36 1918 (syn: Viola etbaica Schweinf.; Viola nubica Hutchinson; Viola somalensis Engl.; Viola stocksii Boiss.);
.
Afghanistan (Paktia / Khost), Saudi Arabia, Oman, Somalia, Sudan, Socotra, Egypt (SE-Egypt), Iran (EC-Iran), India (Punjab, Rajasthan, Gujarat), Pakistan (Baluchistan, Karachi, Sind, Waziristan, Kurram, N.W.Frontier Prov., Pakistani Punjab), Pakistani Kashmir (Mirpur) as per CoL;
---
Annual herb, suffruticose, about 4-20 cm tall. Roots slender. Stem simple or branched from the base. Leaves simple, ovate-obovate, elliptic-lanceolate to narrow spathulate, about 1-4 x 0.5-2 cm across, base attenuate, slightly winged, decurrent into the petiole, margin sparsely crenulate to denticulate, apex acute or obtuse with mucronate tip, glabrous, lateral veins 3-5 on either side of the midrib, stipules subulate, linear lanceolate, margin sparsely denticulate or fimbriate, apex acuminate, persistent, about 2-6 mm long, petiole slender, about 0.5-1.5 cm long. Flowers bisexual, zygomorphic, white, pale purplish, about 5 mm across, on very slender long axillary pedicels, more than thrice as petioles, about 3-4.5 cm long, bi-bracteolate in the top, opposite, sepals 5, subequal, ovate-lanceolate to oblong, membranous, margins scarious or ciliate, persistent, about 2-5 x 1-2 mm across, petals 5, subequal, oblong-oblanceolate, erect or spreading, about 3-6 x 2-4 mm across, spurred basally, spur erect or cylindrical, about 1-2 mm long. Stamens 5, hypogynous, filaments short, anthers 2 loculed, free or connivent around ovary, tipped with triangular nectariferous membranous appendages. Ovary superior, ovoid-globose, sessile, 3 carpellary, glabrous, about 1-2 mm long, ovules many placentae parietal, style capitate, geniculate at base, about 1 mm long. Fruit capsule, tri-valved, oblong, about 4 mm across. Seeds usually 12 seeded, ovoid-globose, about 1 mm across, cream white, surface smooth, shiny.
Scrubs.
Afghanistan, India: Gujarat, Punjab, Rajasthan, Iran, Oman, Pakistan
(Attributions- Ganeshaiah, K. N., UAS, Bangalore, India.; Kailash, B. R., ATREE, Bangalore, India.; Royal Norwegian Embassy grants. Indian Bioresource Information Network (IBIN), Department of Biotechnology, New Delhi, India as per India Biodiversity Portal)
.
---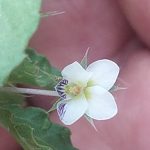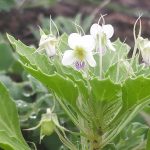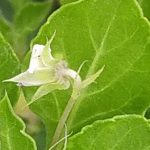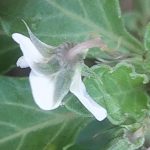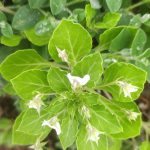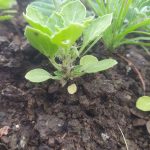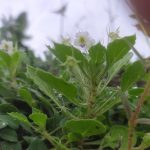 Viola sp.: 7 images- 3 high res.
Savarkundla, Gujarat , 10 07 2021
Identified by Dr Minal Jani Prajapati as Viola cinerea, Flora of Pakistan identifies it as V. stocksii.
There is some confusion prevailing with names
Agra05
 : 7 posts by 2 authors. Attachments 
(2)- 2 & 3 mb.

Need id of this 
herb
from Agra, U.P.

17 November 19
---
Identified as viola stocksii by …
---
To me looks different from Viola stocksii as per
---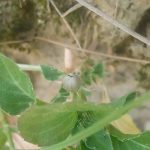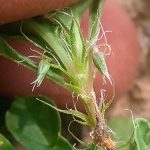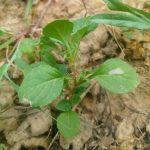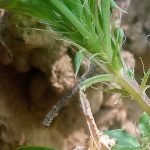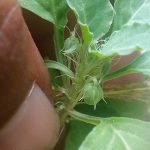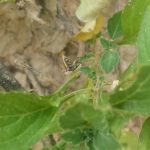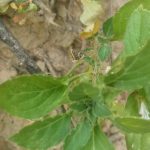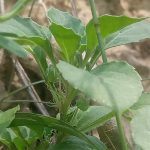 Wonder! Same plant but this year leaves are looking totally different. Experts please check more images of plant.
Attachments (9)
---
Hybanthus
---
Thanks, …, for the id. Yes, it should be
Hybanthus enneaspermus
 (a highly variable species also with ovate leaves, as per details herein).
---
Yes, Viola stocksii only as identified earlier by Arun Kumar ji as per images and references at Viola cinerea var. stocksii
---
.
---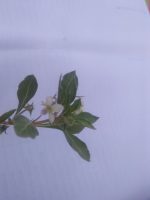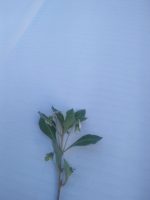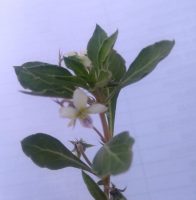 zinako banafasa: 3 high res. images.
location kutch
date 7/10/2022
local name :- zinako banafasa
---
Image quality is very poor
---
---
now confirmed this  plant Viola cinerea gujarati name (zinako banafasa)
---
---
.
References:
Catalogue of Life  POWO 1  POWO 2  The Plant List Ver.1.1  Tropicos  IPNI  GBIF (High resolution specimens) High resolution specimen 1  High resolution specimen 2  Flora of Pakistan  FOP illustration  Pan India Bouquets  Flowers of India  India Biodiversity Portal  Bold  Pak Flora