Schlumbergera × buckleyi (T.Moore) Tjaden, Natl. Cact. Succ. J. 21: 93 1966.;
.
---
Please help me in identifying this
ornamental plant
. This looks like a cactus of
not more than two feet long
.
Stamens many.
Place: Ooty town, Nilgiris, TN
Alt.: 2200 m asl

Date: 01 March 2013
---
It is Schlumbergera truncata a member of cactaceae from Brazil.
en.wikipedia.org/wiki/Schlumbergera_truncata
---
.
---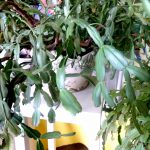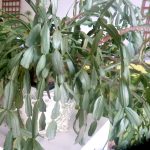 Schlumbergera russelliana from California-GS21072021-1: 2 images.
Schlumbergera russelliana
Christmas Cactus, Easter Cactus
Differentiated from common S. truncata in smaller and smoother segments.
Clicked from San Mateo, California, 14-6-2014
---
I think it may be Schlumbergera x buckleyi as per images and details at
.
---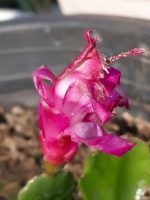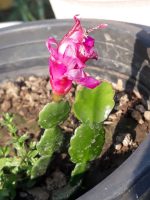 I'd of Schlumbergera: 2 high res. images.
Request for I'd of Schlumbergera cultivated in Bilaspur. Photographed in January, 2023.
---
I think this may be
https://efloraofindia.com/2021/08/08/schlumbergera-x-buckleyi/
Pl. check.
---
---
.
References:
POWO  Catalogue of Life  The Plant List Ver.1.1  IPNI
https://www.ourhouseplants.com/plants/christmascactus