Sedum sedoides (Decne.) Pau ex Vidal & Lopez, Bol. Real Soc. Esp. Hist. Nat. 21: 277 (1921) (syn: Rosularia sedoides (Jacquem. ex Decne.) H.Ohba; Rosularia sedoides var. alba (Edgew.) P.J.Mitch.; Sedum jacquemontii Fröd.; Sempervivella alba Stapf; Sempervivella sedoides Stapf; Sempervivum album Edgew.; Sempervivum sedoides Jacquem. ex Decne.);
.
W. Himalaya as per POWO;
.
N-India (Himachal Pradesh, Uttar Pradesh, Kumaon), Jammu & Kashmir (Kashmir), Pakistan (Swat) as per CoL;
.
---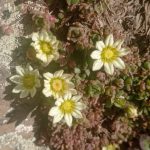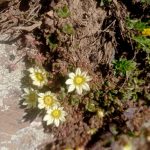 Identification request for This Saxifraga sp.: 3 images.
Location: Kupwara, J&K.
---
Could not find a match as per comparative images at Saxifraga
What are the species reported from your area?
---
Saxifraga exarata subsp. moschata this sp. is found In ladakh
---
The morphology is quite misleading, suggesting it as Saxifraga.
But many carpels in the flower place it in Crassulaceae.
Closer to Sedum sedoides (Crassulaceae).
---
These images were also posted in a different forum by someone else also. There also the ID was suggested as
S. sedoides
.
---
---
.
References: POWO  Catalogue of Life  The Plant List Ver.1.1  Tropicos  GBIF (High resolution specimens)Flickr  plantingman  worldofsucculents
Sedum sedoides (Decaisne) Pau ex Vidal y Lopez, Marco Cristini«Piante Grasse» 41:1 (2021): 24-40.