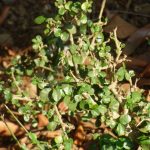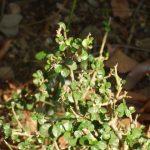 Plant for ID : Mumbai : 06AUG21 : AK-02:
A small shrub seen at Sanjay Gandhi National Park in the month of Feb,21.
Commiphora?
---
Images not so clear. Malvaceae ??
---
Yes, ma'am seems Commiphora mukul,
---
I have seen a lot of Commiphora shrubs in Oman. That's why I suggested.
---
Pl. post high res. images to check the details.
As per FoPI, six species are represented, including three represented in efi at Commiphora
Commiphora stocksiana (Engl.) Engl. looks different as per FoP illustration (3-5 foliate), GBIF
Commiphora gileadensis (L.) C.Chr. (3-5 foliate) also looks different as per illustration.
The Taxonomy of Commiphora mukul (Not listed in FoPI) also appears confusing with POWO giving it an accepted name, while CoL and Flora of Pakistan, giving it as a syn. of Commiphora wightii (Arn.) Bhandari
---
I can see unifoliate leaves with some serration at the upper portion, so it may be as per suggestion by … as per Flora of Pakistan (Leaves sessile, alternate or fascicled, 1-3-foliolate; leaflets glabrous, the terminal sessile or subsessile, obovate, serrate (sometimes serrate only towards the apex), 1-5 cm long, 0.5-2.5 cm broad, lateral when present sessile, serrate or entire, less than half the size of the terminal leaflet).
---
Commiphora berryi is also 3-foliate as per images and references at Commiphora berryi (Arn.) Engl.
---
Adding high resolution images.
3 high res. images.
---
do you remember where in SGNP you saw this plant?
---
There is a train ride inside the park.
This plant was near the station, next to the tracks.
---
I think this plant is Streblus asper in stunted form.
It's true there is a superficial similarity with Commiphora but it is very unlikely to be growing in this location. The bark in the photos is a little different from Commiphora and none of the branches are ending in spines.
I have sometimes observed shrubby individuals of Streblus just like this one. It's likely that the plant may have been repeatedly cut back or damaged as it is growing in a public place.
---
You are absolutely brilliant. Your keen observation could catch the differences between the two.
---
I am yet to reconcile myself with this being Streblus asper as per images and details herein, though I am not ignoring that possibility. I still feel it may be Commiphora wightii as per images and details herein.
---
Have you ever tried growing Commiphora in the Bombay climate?
---
I have no idea about it.
---
What I mean is this plant doesn't make it here!
---
Ok. Thanks,
---