Sonerila sahyadrica G. S. Giri & M. P. Nayar, Bull. Bot. Surv. India 26: 175 (1986);
.
India as per POWO;
.
---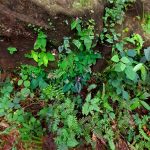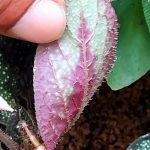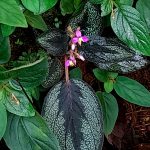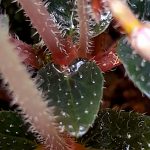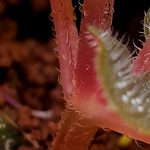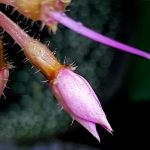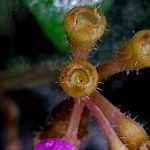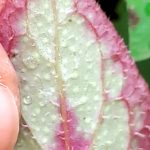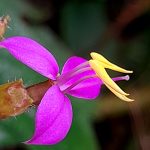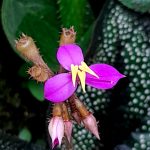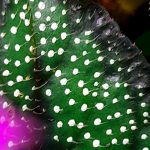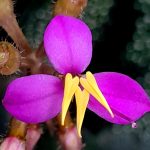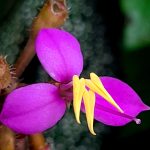 22 ID wild plant Sonerila sp.: 14 images.
Please ID wild plant. Very rare, only 3 plants growing here.
Location: near Reserve Forest, Chathamattom, Ernakulam District, (Kochi) Kerala PIN:686671
Altitude: 1400fsl
Flower date: 13.08.2021, 08.55am
Habitat: wild, moisture, rocky, stone wall, filtered sunlight
Plant habit: small shrub, erect, slender weak purple fleshy stem, hairy, annual
Height: 08cm including flower shoot
Leaves: white spotted, purple shaded back side, opposite, ovate, oblong, apex, toothed margins, hairy, tamarind taste, size:08×5cm or less
Flower: racemose, 3 petals, diameter:11mm, pink, non fragrant
Fruit: cone shaped, green into brown, 01.5cm length, diameter:6mm
Seed:
Camera: Samsung Galaxy A21s
---
Please check for this link  whether it matches :
http://novataxa.blogspot.com/2021/06/sonerila-kanjilasseriensis.html
---
Yes, it is
---
Thanks, …, for id as Sonerila kanjilasseriensis as per Novataxa
Sonerila being a bit complex, …, may confirm or otherwise as per this publication.
For me it appears close.
---
This is nothing but Sonerila sahyadrica, but the same species appeared as S. kanjirasseriensis in Kew Bullettin. It might be happened when a foreign reviewer inadvertently overlooked it. Any how I have submitted a formal reduction of this species in Phytotaxa recently. It is under review now.
---
Please read it as Sonerila kanjilasseriensis
---
---
.
References: POWO  Catalogue of Life  The Plant List Ver.1.1  Tropicos  Flora of peninsular India  IBIS Flora Kerala plants
A NEW SPECIES OF Sonerila (MELASTOMATACEAE) FROM THE WESTERN GHATS OF KERALA, INDIA- K. P. Deepthikumary and A. G. Pandurangan- TAPROBANICA, ISSN 1800–427X. August, 2014. Vol. 06, No. 02 (Abstract: A new species, Sonerila keralensis, from the Western Ghats of Kerala is described and illustrated. It is allied to S. rheedei differing by having a tuberous root stock, three to seven flowers, and petals with
sparsely glandular-hairy margins)