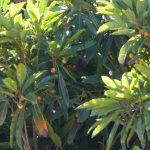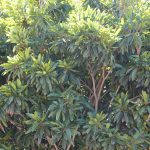 Tree for ID : San Francisco : 12SEP21 : AK – 013: 2 images.
Tree seen in San Francisco.
Is it Eriobotrya japonica?
---
I think looks different from images at 
Eriobotrya japonica
---
I think E. japonica is a very variable species, sensitive to growing conditions.  It's the only widely cultivated Eriobotrya other than E. deflexa, and I don't think it is that.
---
Thanks for your feedback and the information.
Should we think of Eriobotrya japonica then?
---
It is slightly odd for E. japonica but my view is that E. japonica is the most likely species so I would record it as that.
---