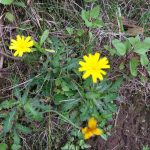 Launaea acaulis (Roxb.) Babc. ex Kerr SN21921: 1 image.
Wild herb from Doddabetta area of Nilgiri hills
---
Can also be Launaea intybacea as per details herein and as per POWO and as per species found in Tamil Nadu as per details at Launaea?
Do you have the images of the phyllaries?
Do you have keys between the two?
Also check L.aculis as per POWO specimens- one and two.
---
Leaves confined to the base only, no cauline leaves, only the peduncle is long and branched, leaves hairy. I was looking for Teraxacum officinale. It is looking similar but leaves glabrous, lobes pointed and pattern entirely different, head also a little larger.
---