Iris macrosiphon Torr., Pacif. Railr. Rep. 4(5): 144 1857. (syn: Iris amabilis Eastw.; Iris californica Leichtlin; Iris macrosiphon var. elata Eastw.; Limniris macrosiphon (Torr.) Rodion.);
.
California as per POWO;
.
---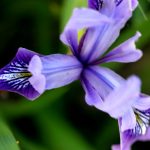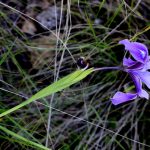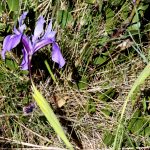 Iris macrosiphon from UCBG California-GS09102021-4: 3 images.
Iris macrosiphon Torr.
Common name: Bowtube Iris
endemic to California with narrow leaves and flowers in various colours of cream to gold-yellow or lavender to deep blue-purple with darker veins, with 3.5 to 6.5 cm long perianth tube. 
Photographed from University of California Botanical Garden, California, 22-4-2019.
---
---
.
References: POWO  Catalogue of Life  The Plant List Ver.1.1  WCSP  IPNI  Flowers of India  Wikipedia
https://www.wildflower.org/plants/result.php?id_plant=IRMA
https://www.calflora.org/app/taxon?crn=4355
https://www.fs.fed.us/wildflowers/
https://calscape.org/Iris-macrosiphon-()