Lasianthus lucidus Blume, Bijdr. 997 1826. (syn: Mephitidia lucida (Blume) DC.; Nonatelia lucida (Blume) Kuntze);
.
China (Yunnan) to Tropical Asia: Assam, Bangladesh, China South-Central, Hainan, Jawa, Lesser Sunda Is., Malaya, Maluku, Myanmar, New Guinea, Philippines, Sulawesi, Thailand, Vietnam as per POWO;
.
---
Evergreen shrubs; branches and branchlets glabrous or sparsely strigose on very young parts. Leaves simple, opposite decussate; stipules ca. 0.1-0.15 cm, persistent, triangular, strigose; petiole ca. 0.25-0.8 cm, strigillose or strigose; lamina ca. 5-7.5 x 2.3-5 cm, elliptic or lanceolate, cuneate at base, acute at apex, margins undulate, slightly coriaceous, roung and hairy beneath; secondary nerves 5-6 pairs. Inflorescences glomerulate to subcapitate, sessile; bracts absent; Flowers sessile or subsessile; calyx with hypanthium portion obconic to widely campanulate, ca. 0.1-0.15 cm, glabrescent; limb deeply lobed; lobes 5, narrowly triangular, ca. 0.2-0.3 cm, unequal on an individual flower, strigose; corolla ca. 0.8-1.2 cm, glabrous or strigillose outside, villous at throat and on lobes inside; lobes 5, triangular, ca. 0.2-0.25 cm. Fruit globose or ovoid, ca. 0.4-0.5 cm in diam., glabrous; pyrenes 5.
Montane forests, shaded and wet places; 900-2400 m.
(Attributions- French Institute of Pondicherry as per India Biodiversity Portal)
.
---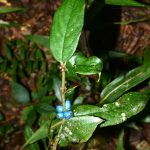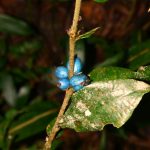 MS,Oct.,2021/41 Lasianthus sp. for id.: 2 images.
Location : Ailawng
Date : 23-11-2018
Habit : Undershrub
Habitat : Wild
---
Yes from me.
---
As per keys given by you in MS,Jan.,2021/20 Lasianthus sp. ? for id., it will be either L.hookeri or L.lucidus, depending on the no. of pyrenees (i.e. stones) inside the fruit.
Can you check the no. inside the fruit?
---
No, sir
---
Can you post description of both species i.e. L.hookeri (one, two) or L.lucidus (one, two) as I am unable to decide based on specimens in POWO?
---
---
Checked but could not decide.
May I request you to pl. post high res. images to check further.
---
---
I think it is closer to L.lucidus as per description.
---
.
---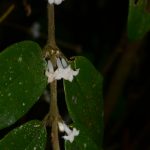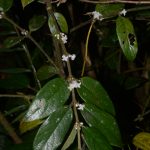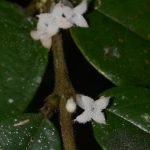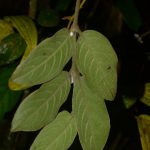 MS,Nov.,2021/25 Lasianthus sp. for id.: 4 images.
Location : Ailawng
Date : 26-09-2018
Habit : Undershrub
Habitat : Wild
---
Lasianthus lucidus Blume, as per images and details herein. 
---
---
.
References: POWO  Catalogue of Life  The Plant List Ver.1.1  WCSP  IPNI  Flora of China  India Biodiversity Portal  IBIS Flora