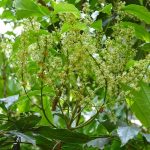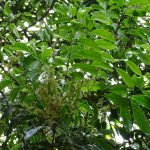 MS,Oct,2021/07 Tree for id.:
Location : Dampui, Mizoram
Date : 14-04-2016
Habit : Small tree ?
Habitat : Wild
---
Pl. post high res. images to see the details.
---
2 very high res. images.
---
Any idea about the family or the genus?
---
My first impression was something like Lepisanthes of Sapindaceae family. But, flowers are different. My 2nd thought was Combretaceae member. But finally I think it is beyond my capacity!
---
Zanthoxylum? Rutaceae
---
A member of Sapindaceae. perhaps Gnephelium
---
Same tree
---
I tried all Sapindaceae members in eflora of India, including Nephelium but could not find a match.
---
Well, I am not sure of what I am going to suggest, Sir.
I find certain similarities with Champereia manillana (Blume) Merr., of Opiliaceae family. Related links to my suggestion are-
And KEW + FoC
Please, check for probability.
---
Yes, Sir, it is not  Champereia, flowers are different in that species.
---
Please check Meliaceae.
---