Psychotria silhetensis Hook.f., Fl. Brit. India 3: 174 1880. (syn: Uragoga silhetensis (Hook.f.) Kuntze);
.
Arunachal Pradesh to Bangladesh: Assam, Bangladesh, East Himalaya as per POWO;
.
---
Shrubs, up to 3 m tall; branchlets stout; stem slender, pubescent. Leaves simple, opposite decussate; stipules ca. 1-2.5 x 0.5-1 cm, ovate-oblong, villous beneath; petioles ca. 1 cm long, stout, puberulose; lamina ca. 13-35 x 4-16 cm, elliptic-oblong, ovate or obovate, cuneate or attenuate at base, acute or acuminate at apex, entire, coriaceous, glabrous above, puberulose or glabrous beneath; secondary nerves 14-22 pairs. Inflorescences in terminal or axillary, pedicellate corymbose cymes; calyx cupular or obconic, ca. 0.15-0.2 x 0.2-0.25 cm, puberulose, apically 5 toothed; corolla ca. 0.15-0.3 cm long, greenish brown or white, throat velutinous within; lobes 5, ovate-lanceolate or ovate-elliptic, slightly inflexed, glabrous or warty above; stamens 5, inserted. Fruit ca. 1-1.5 cm in diam., ovoid, black, stalked, warty or glabrous above.
Flowering & Fruiting: September-December
(Attributions- French Institute of Pondicherryas per India Biodiversity Portal)
.
---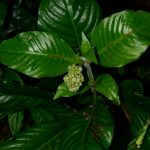 MS,Oct, 2021/33 Rubiceae ? for id: 1 high res. image.
Location : Ailawng
Date : 20-05-2019
Habit : Small shrub ?
Habitat : Wild
---
Psychotria,
---
Any keys, …?
Leaves appear closer to your images at Psychotria monticola Kurz
---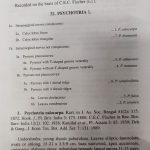 ---
As the keys are mainly based on the shape of the pyrene (with seeds inside).
Let us keep it as 
Psychotria monticola
 only until we have more details and pyrene.
---
I checked all the species listed from your book.
This appears close to
Psychotria silhetensis
Hook.f. as per 
POWO
 specimens- 
one
 and 
two
.
---
Psychotria monticola ?
---
No
---
.
---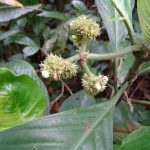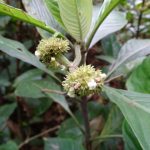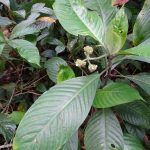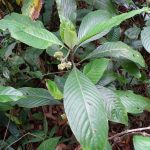 MS,Nov.,2021/07 Lasianthus sp.? for id.: 4 images.
Location : Dampui-ngaw,
Date : 02-05-2016
Habit : Undershrub
Habitat : Wild
---
What are the sp. listed there?
---
.
---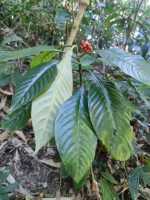 MS,Jan.,2023/28 Psychotria sp. (silhetensis ?) for id.: 1 image.
Location : Reiek tlâng, Mizoram
---
I checked all the species listed in your book as per details at MS,Oct, 2021/33 Rubiceae ? for id
Yes, it appears close to Psychotria silhetensis as per GBIF specimens (one, two, three and four).
---
---
.
References:
POWO  Catalogue of Life  The Plant List Ver.1.1  WCSP  IPNI  GBIF (High resolution specimens) India Biodiversity Portal  IBIS Flora (Flora of British India)