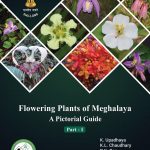 Dear Garg ji and the efloraofindia family: 1 high res. image.
Happy to share with you the news of publication of the book
"Flowering Plants of Meghalaya – A Pictorial Guide : Part -1
published by the Meghalaya Biodiversity Board, Government of Meghalaya, which we hope would be useful to people at large.
---
Price, availability ??
---
The book is priced at Rs. 500/-  (Rupees FIVE hundred only).
Only in HARDCOPY.
Available from the Meghalaya Biodiversity Board Office at
Meghalaya Biodiversity Board,Govt. of Meghalaya,
Sylvan House, Lower Lachumiere, Shillong – 793001, Meghalaya
It contains coloured photographs of 1014 sp with local names in Khasi, Garo and Jaintia languages and their distributional records.
---
Is it possible to send by courier? Please let me know if possible and amount to be sent for the book to be delivered at Mumbai !
---
I am sure that this can be done.
If the Publishers can do the needful, it would be best, else I will take care of it.
Kindly do send me your full postal address with pincode. I shall do the needful.
---
Thanks, Kanhaiya Lal ji, for the wonderful book and work from your side.
Can you provide the summary or gist for the record?
---
Reattaching a further abridged and lighter version pertaining to the book (Flowering Plants of Meghalaya-A Pictorial Guide -Part 1) for the website that you requested earlier.
1 pdf- 5.4 mb
---