Pseudechinolaena polystachya (Kunth) Stapf, Fl. Trop. Afr. 9: 495 1919. (syn: Echinochloa echinata P.Beauv.; Echinochloa polystachya (Kunth) Roberty; Echinolaena polystachya Kunth; Echinolaena trinii Zoll. & Moritzi; Lappago aliena Spreng.; Lappago oplismenoides Speg.; Loxostachys uncinata (Raddi) Peter; Nazia aliena (Spreng.) Scribn.; Nazia racemosa var. aliena (Spreng.) Scribn. & J.G.Sm.; Oplismenus oplismenoides (Speg.) Speg.; Panicum disjunctum Steud.; Panicum echinatum Willd. ex Döll; Panicum heteranthum Link; Panicum heterochlamys Peter; Panicum trinii (Zoll. & Moritzi) Moritzi; Panicum uncinatum Raddi; Tragus alienus (Spreng.) Schult.);
.
Tropics & Subtropics: Angola, Argentina Northeast, Argentina Northwest, Assam, Bangladesh, Bolivia, Brazil North, Brazil Northeast, Brazil South, Brazil Southeast, Brazil West-Central, Burkina, Burundi, Cameroon, Cape Provinces, Central African Repu, China South-Central, China Southeast, Colombia, Congo, Costa Rica, East Himalaya, Ecuador, Ethiopia, Gabon, Ghana, Guatemala, Guinea, Gulf of Guinea Is., Guyana, Hainan, Honduras, India, Ivory Coast, Jawa, Kenya, KwaZulu-Natal, Lesser Sunda Is., Liberia, Madagascar, Malawi, Malaya, Maluku, Mexico Central, Mexico Gulf, Mexico Southeast, Mexico Southwest, Mozambique, Nepal, New Guinea, Nicaragua, Nigeria, Northern Provinces, Panamá, Paraguay, Peru, Rwanda, Sierra Leone, Sri Lanka, Sudan, Sumatera, Tanzania, Thailand, Tibet, Togo, Uganda, Uruguay, Venezuela, Vietnam, Zambia, Zaïre, Zimbabwe as per POWO;
---
Slender annuals; nodes appressed pubescent. Leaves ovate-lanceate, 1.5-4.5 by 0.5-1 cm, base oblique, apex acute, pilose. Inflorescences of distant racemes. Spikelet ovoid, solitary, dorsally compressed; lower glume broadly ovate, 3-nerved, aristate; upper glume boat-shaped, 7-nerved, with rows of hooked bristles in between; lower lemma ovate, 3-nerved; palea convolute. Upper lemma crustaceous, 5-nerved, paleate; stamens 3. Caryopsis oblong, gibbous on the back.
Flowering and fruiting: September-December
Along margins of forests
(Attributions: Dr. N Sasidharan (Dr. B P Pal Fellow), Kerala Forest Research Institute, Peechi as per India Biodiversity Portal)
.
---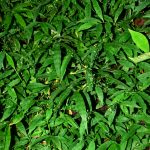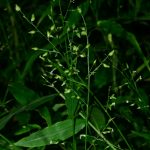 MS,Nov.,2021/48 Pseudechinolaena sp. ? for id.: 2 images.
Location : Durtlang
Date : 20-06-2018
Habit : Grass
Habitat : Wild
---
Pseudechinolaena polystachya (Kunth) Stapf ???
---
Yes
---
Yes it is Pseudechinolaena polystachya
---
---
.
References: POWO  Catalogue of Life  The Plant List Ver.1.1  WCSP  IPNI  GBIF (High resolution specimens)  Flora of China  FOC illustration  Flora of Zimbabwe  Annotated checklist of Flowering plants of Nepal  Flora of peninsular India Kerala plants