Lindsaea ensifolia Sw., J. Bot. (Schrader) 1800(2): 77 1801. (syn: Schizolegnia ensifolia (Sw.) Alston; Schizoloma ensifolium (Sw.) J.Sm.; Schizoloma ensifolium var. normale Domin; Adiantum ensifolium (Sw.) Poir.);
.
Tropical & Subtropical Old World: Andaman Is., Assam, Bangladesh, Bismarck Archipelago, Cambodia, Cape Provinces, Caroline Is., China South-Central, China Southeast, East Himalaya, Gabon, Ghana, Guinea, Hainan, India, KwaZulu-Natal, Laos, Lesser Sunda Is., Madagascar, Malaya, Maluku, Mauritius, Mozambique, Myanmar, Nansei-shoto, Nepal, New Guinea, Nicobar Is., Nigeria, Northern Territory, Philippines, Queensland, Réunion, Seychelles, Solomon Is., Sri Lanka, Sulawesi, Sumatera, Taiwan, Tanzania, Thailand, Vietnam, Western Australia as per POWO;
.
---
Terrestrial herb with creeping rhizome, 2 mm thick. Scales 1.5 x 0.1-0.2 mm, linear, entire, acuminate, dark brown uniformly thickened. Fronds 40 x 10-15 cm, simply pinnate; stipe 18-20 x 0.2-0.25 cm, glabrous, dark brown to pink, polished; pinnae 10-12 x 0.7-1.2 cm, oblong-acuminate, subsessile, obliquely cuneate at base, serrate at distal non soral part, alternate, except the basal pinna; veins anastomosing, costa prominently raised beneath. Sori linear, 8-9.5 cm long, yellowish brown; indusia translucent. Sporangial capsule 250 x 150 µm subglobose, stalk 250 µm long. Spores 37.5 x 25 µm, trilete, yellowish, granulose.
Growing in all habitats from coastal plains to forests.
(Attributions- K. P. Rajesh as per India Biodiversity Portal)
.
---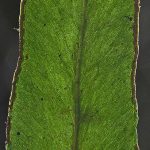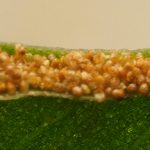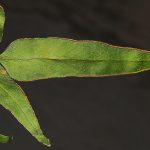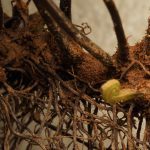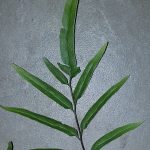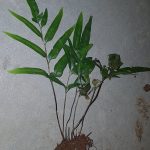 fern for id ? Lindsaea ensifolia: 6 images.
Date- 22 Jan 22
Location- South-west Maharashtra. western ghat hills.
Habitat- Wild. Terrestrial. On bank of stream.
Plant Habit- Herb. in small colonies/ single. 
Height: Upto 25cm. 
Rhizome: Long creeping, densely scaly. Scales appressed, narrow, reddish brown.
Fronds:
Stipe- chestnut colored, 10-30 cm, quadrangular.
Lamina- Oblong, 25×10 cm, herbaceous, 1-pinnate.
Pinnae- 4 pairs, subopposite at base, alternate apically, narrowly lanceolate, short stalked, base broadly cuneate, margin entire/serrate in sterile pinnae, apex acuminate. Terminal pinnae similar to lateral ones.
Veins- Anastomosing, uniting to form 2 rows of areoles along each side of costae, other veins free, visible on both surfaces.
Scales- Very narrow.
Sori: Marginal, terminal on veinlets. Indusia linear, continuous, attached only at base.
I feel it is- L. ensifolia: Lamina 1-2 pinnate. Terminal pinna similar to lateral ones. 
(In L. heterophylla: No terminal pinna. Upper pinnae gradually become smaller into a coadunate apex).
Above are the notes I have compiled from the internet. The bold letters indicate the characters comparable to my photos.
---
Yes, typical Lindsaea ensifolia, as you worked out. Common and distinctive – and typical of Lindsaea with the indusia opening outwards.
---
.
---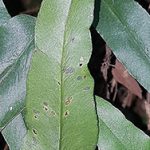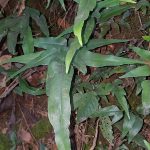 ? Bolbitis sp.: 2 images.
Date- 20 Feb 22
Location: North Goa, Chorla ghat. on earth cuttings near road in colonies.
Habitus: herbaceous.
height- upto 25cm.
---
Isn't it Lindsaea ensifolia?
---
To me also appears close to images at Lindsaea ensifolia
---
---
.
References:
POWO  Catalogue of Life  The Plant List Ver.1.1  Tropicos  IPNI  GBIF (High resolution specimens) Flora of China  FOC illustration  Flora of Zimbabwe  Flora of peninsular India  India Biodiversity Portal  pteridoportal