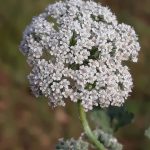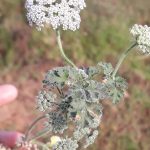 I'd of a possible Umbellifer: 2 high res. images.
Request for I'd of a possible Umbellifer from Bilaspur. Photographed in April, 2022.
---
Possibly Achillea sp….. look like a member of the Apiaceae (Umbellifer) family, although it is actually a member of the Daisy family.
…..  is a group of flowering plants in the family Asteraceae,
There are many…see Kew Plant List.
http://www.theplantlist.org/tpl1.1/search?q=Achillea
I got confused seeing the inflorescence.
---
Fruits look that of Apiaceae.
---
Zoomed in for a close look. Ignore suggestion for Achillea!
---
On pursuing comparative images at Apiaceae, I feel it may be Seseli (more likely) or Pimpinela
Species found in your area will help.
---
Seseli petrosciadium Pimenov & Kljuykov ??
---
I think it looks different and also does not have distribution in Chhattisgarh as per POWO– specimen.
I also tried species listed in BSI Flora of India, but could not find any match.
---
OK
---