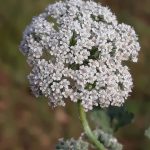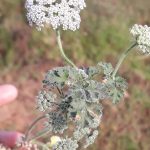 I'd of a possible Umbellifer: 2 high res. images.
Request for I'd of a possible Umbellifer from Bilaspur. Photographed in April, 2022.
---
Possibly Achillea sp….. look like a member of the Apiaceae (Umbellifer) family, although it is actually a member of the Daisy family.
I got confused seeing the inflorescence.
---
Fruits look that of Apiaceae.
---
Zoomed in for a close look. Ignore suggestion for Achillea!
---
On pursuing comparative images at Apiaceae, I feel it may be Seseli (more likely) or Pimpinela
Species found in your area will help.
---