Dinesh Valke: Best Flora Photograph to celebrate 15 years of completion of efloraofindia:
Little is charming
Getting to explore flora during family vacation has always been rewarding to me. Whatever I get, however little, is charming. This March'22, I was in Sikkim. I was able to add around 40 new species to my collection. Sikkim is well-known for rhododendrons, I am posting a picture of rhododendrons.
March 7, 2022 … Plant Conservatory, Bulbuley, Gangtok, Sikkim
Rhododendron grande Wight … many thanks to Shrikant Ingalhalikar Ji for the ID.
---
Superlative, Dinesh ji,
Crystal clear clarity.
One is really mesmerised by ditto 'lip shaped' stigma.
---
Published at
https://efloraofindia.com/2022/04/27/dinesh-valke-best-flora-photograph-to-celebrate-15-years-of-completion-of-efloraofindia-on-17-6-22/
Posted it in efloraofindia Facebook page and in Indian Flora Facebook group.
Pl. give it wide publicity in Social media, by posting it in your profile/ groups/ Instagram etc.
---
Too good Dinesh ji, no doubt you are my favourite, always coming up with best photographs.
---
Wow! So beautiful…great choice Dinesh ji!
---
This is really amazing Dinesh Ji..!!
Just beauuuutiful…!!!
---
White is beauty in simplicity
Wow !! Very cute rhododendron
---
Fantastic Photo, cute rhododendron …
---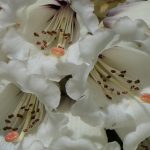 Just cropped to show the lip shaped stigma.
---
Yes, … I saw it the other day when you pointed it out. I had not zoomed in to see it earlier. The structure is absolutely like pair of lips !!! Nature's design and architecture is simply wonderful.
---
छू लेने दो नाज़ुक होंठों को, कुछ और नहीं हैं जाम हैं ये –
chhuu lene do naazuk ho.nTho.n ko, kuchh aur nahii.n hai.n jaam hai.n ye
Pollinators must be waiting to touch these lips.
---
These words are suited here perfectly, … !!
---
Superb photograph and clarity.
---