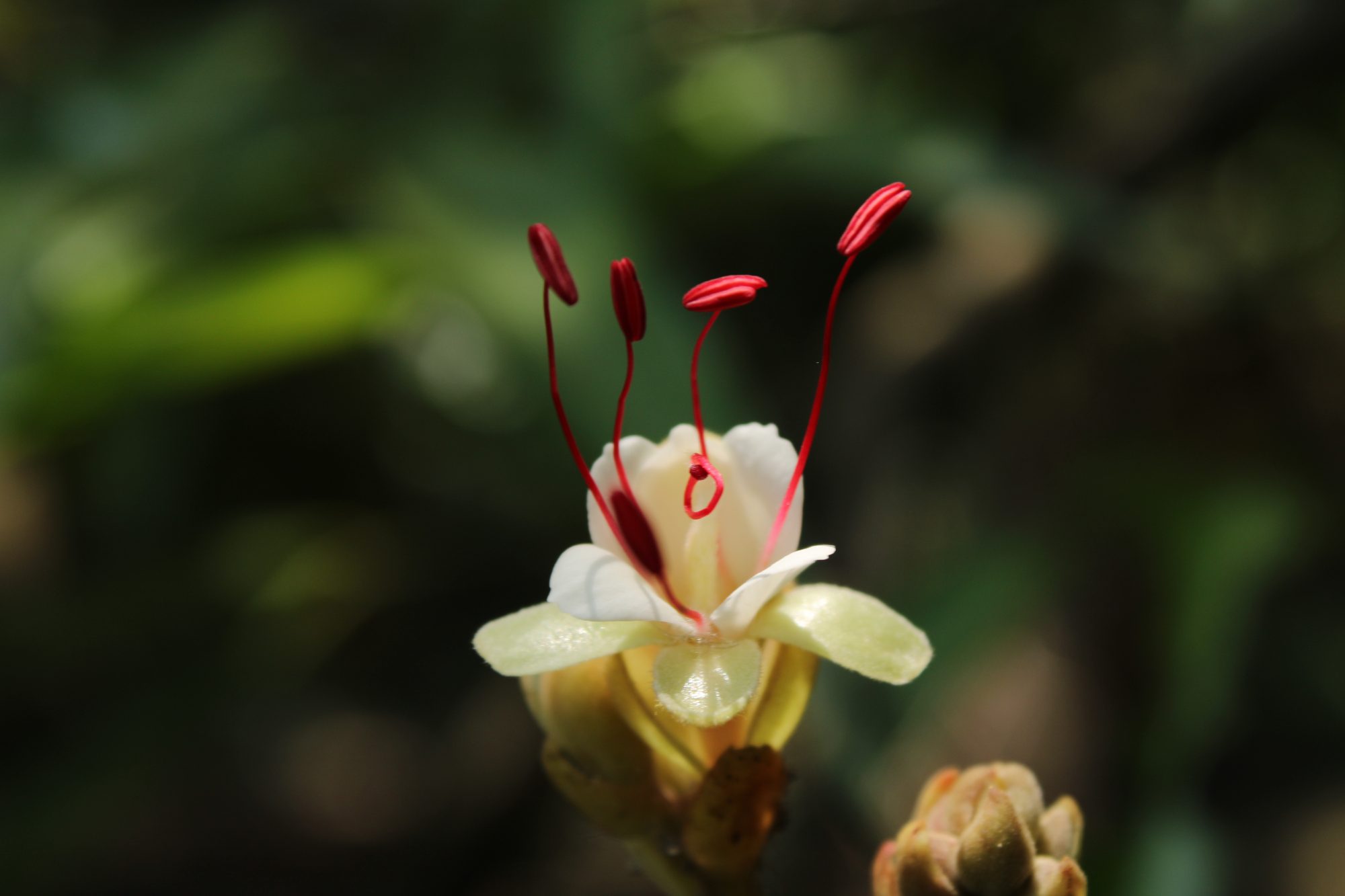 Sam Kuzhalanattu: Best Flora Photograph to celebrate 15 years of completion of efloraofindia:
The Hanging Rope

One February morning, my eyes were caught on a tree growing streamside with white flowers that I couldn't see before and walked near to the tree for photography. But my way was blocked by sharp thorny branches of Senegalia torta creeping underneath of the tree, so it was needed to clear and results in time wasting there. When approaching to and capturing flowers, I found some disorder with style because it is not straight.  While capturing images of opening flower, I saw an amazing figure of 'knotted stigma' through my lens.  On further observation it was same as other opening flowers, and I decided it as absolutely natural and one of our green biodiversity wonders.  Hence I considered this as my masterpiece image which gives much harmony in my photographic passion. My tree identification credits to Sheila ji and Saroj Kumar Kasaju ji, thanks a lot.
Sam Kuzhalanattu
Humboldtia vahliana          Fabaceae
Common name: Malabar Humboldtia
Local name: KAN: Neervaanche
MAL: ആറ്റുവഞ്ചി Aattuvanchi കരപ്പൊങ്ങ് Karappongu കോരത്തി Korathi കൂറപ്പുന്ന Koorappunna  SAN: Jelavedesa  TAM: Attavanji
Location & Altitude: Ernakulam, Kerala
1400fsl
Flower date: 20th February, 2022, 12.54pm
Camera & Tech. details: Canon EOS1500D
F8.0   1/160 s   53.00mm   ISO 100
White balance  Manual   No flash
---
Truly wonderful and mesmerising.
I am yet to reconcile my mind that such a thing is there in nature.
No words to your superb composition.
---
Beautiful photograph and narration as well. Thanks for sharing Sam ji..
---
super image of Humboldia
---
Oh, so wonderful !! Thoroughly a masterpiece !!! Thanks Sam ji for sharing.
---
Thank you very much for your great valuable words and a chance to participate in the 15th year anniversary celebration of 'efloraofindia'. I have no story skills, so I am pleased to make editing, if necessary.  Also provide a resized image of the same for detailed view,
---
Thank you very much dear … for the great appreciations
---
Published at
https://efloraofindia.com/2022/04/27/sam-kuzhalanattu-best-flora-photograph-to-celebrate-15-years-of-completion-of-efloraofindia-on-17-6-22/
Posted it in efloraofindia Facebook page and in Indian Flora Facebook group.
Pl. give it wide publicity in Social media, by posting it in your profile/ groups/ Instagram etc.
---
Thank you very much for published my article with photograph in the eFI website and I am share it to various social media platforms
---
Beautiful photograph Sam Ji.
---
Beautifully captured Sam Ji.
---
Photo from Sam ji along with its story came 1st, to celebrate 15th anniversary of eFloraofIndia on 17.6.22. Congrats, Sam ji, for your great skills and efforts.
---
Thank you very much dear … and all Members for give me an opportunity to participate in the flora photography contest, and continues encouragement,
---