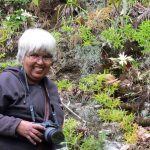 Story to celebrate 15th Anniversary of efloraofindia group:
Eflora to me is group of plant lover friends
I was willing to interact with similar minded people who are passionate about plants, fieldwork  & plant taxonomy & then I came across this group.
It made me study more about plants & drawn me more towards fieldwork.
I have got chance to meet Gurcharan sir, Pankaj Balkar & Nidhan, to go for plant exploration with them & learn so many things from them , now as I'm retired this year, I will learn more
This group is unique with young and old scientist and common people, people from different parts, interacting on same platform having common interest, passion to learn more about plants
Gurucharan sir as aptly named Pitamaha is my most favourite so dedicated so enthusiastic so knowledgeable not only great Plant Taxonomist, he is sweet caring person too
 Pankaj genius dedicated, world known orchidologist & friend always ready to help others, I wonder how he knows orchids not only from India and HK where he works but also from so many different countries & how he remembers minute details of so many orchids
Balkar and Nidhan are always active in the world of Plant Taxonomy and making students and other people about importance of it
Dinesh ji hats off to his work of collecting and publishing not only pictures but names of plants in all Indian languages
Young talented dedicated Navendu he knows every plant and it's features .. Simply great!!
Saroj ji  Garg ji and Aarti ji I always surprise of their so so many posts so much of hard work they're putting for the site
Gibby ji, Manudev, Manoj ji & so many
There are so many members I have hardly interacted with  or not interacted at all but I know them & I respect all of them for their dedication to plant taxonomy and knowledge
I used to tell my students about Gurcharan sir, Dinesh ji and Pankaj about their hard work passion and talent to encourage and motivate them
I wish the best for our largest group and feel lucky to be part of it
---
Thanks, Smita ji, for the story coming from the heart.
---
Published at
https://efloraofindia.com/2022/04/27/smita-raskar-story-of-efloraofindia-to-celebrate-15-years-of-its-completion-on-17-6-22/
Posted it in the efloraofindia Facebook page.
Pl. give it wide publicity in Social media, by posting it in your profile/ groups/ Instagram etc.
---
Very nice and spontaneous feelings, Smita ji.
---
Thanks Smita ji for story coming from heart
---