Blepharistemma membranifolium (Miq.) Ding Hou, Interpr. Hort. Malab. 214 1988. (syn: Blepharistemma serratum Suresh; Dryptopetalum membranaceum Miq. ex Benth.; Gynotroches membranifolia Miq.; Rodschiedia serrata Dennst.);
India as per POWO;
.
---
Bark yellowish-brown, smooth, lenticellate; branchlets lenticellate; young shoots pubescent. Leaves simple, opposite, decussate, stipulate; stipules interpetiolar, cauducous; petiole 6-10 mm long, slender, pubescent; lamina 4.5-15 x 2-7 cm, elliptic, elliptic-oblong or oblong, base acute or attenuate; glabrous, membranous; lateral nerves 5-9 pairs, slender, pinnate, prominent, intercostae reticulate, obscure. Flowers polygamodioecious, 4 mm across, white, in many flowered axillary cymes; bracteoles absent; calyx tube campanulate, adnate to the base of the ovary, lobes 4, erect; petals 4, clawed, spathulate, lacerate at apex, white, inserted around a 8-lobed disc, disc lobes long in male short in bisexuals; stamens 8, inserted on the margin of the disc, small in female, filaments ciliate, anthers oblong; ovary 3-celled; ovules 2 in each cell; style short in males, longer in female; stigma shortly 3-lobed. Fruit a 3-valved capsule, 6 mm across, yellowish, subglobose, acute; seeds covered with yellow aril.
Flowering and fruiting: February-July
Moist deciduous and semi-evergreen forests, also in the plains
Southern Western Ghats
(Attributions: Dr. N Sasidharan (Dr. B P Pal Fellow), Kerala Forest Research Institute, Peechi as per India Biodiversity Portal)
.
---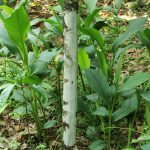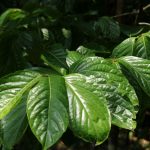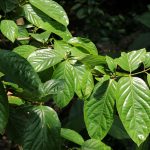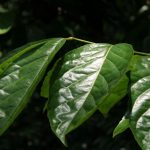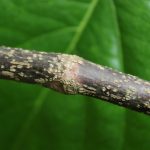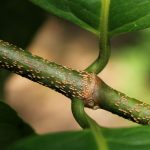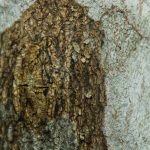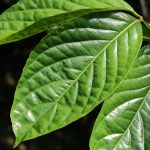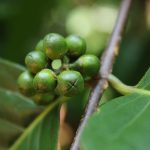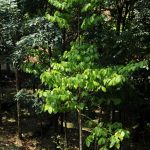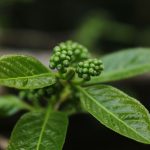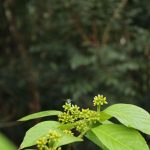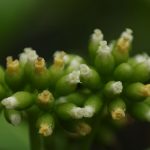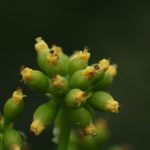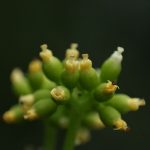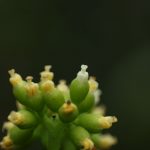 304 ID wild small tree: 16 high res. images.
Please ID wild small tree,
Location: near Reserve Forest, Chathamattom, Ernakulam District, (Kochi) Kerala PIN:686671
Altitude: 1400fsl
Flower date: 20.03.2022, 11.00am
Habitat: wild, moisture, rocky
Plant habit: small tree, erect, branches, hard woody stem 15 inches base circumference, rough bark, deep purplish medium old branches, long lasting
Height: 05 meters
Leaves: opposite, ovate, apex, serrated margins, glossy, size up to:18×8cm
Flower: racemose, size:01×0.2cm, white and 2nd day yellow, good fragrance
Fruit: drupe, globular green, diameter:08mm
Seed:
Camera: CANON EOS1500D +rr
---
Blepharistemma serratum?
---
Yes, it is Blepharistemma serratum dear …, thank you very much for ID my plant.
---
.
---
ID KZD 03/ 14/2/23: 2 images.
Please identify this shrub from Kozhikode Kerala 14/2/23
---
Any other images?
---
Tried with Viburnum, Ehretia, Premna etc. but did not reach anywhere.
---
Blepharistemma membranifolium?
---
Yes possible as per image and references at
https://efloraofindia.com/2022/05/03/blepharistemma-membranifolium/
---
It is a Rubiaceae member for sure
---
Yes, appears so as per images at
https://efloraofindia.com/2022/05/03/blepharistemma-membranifolium/
---
Yes, it is Blepharistemma serratum as identified by … I never seen the young shoots of this plant. Thanks for correcting it
---
---
.
References:
POWO  Catalogue of Life  The Plant List Ver.1.1  GBIF (High resolution specimens) BSI Flora of India Checklist  Flora of peninsular India  India Biodiversity Portal  Biotik  Wikipedia Wikimedia Commons  Plant illustrations