Saxifraga asarifolia Sternb., Revis. Saxifrag. Suppl. 1: 24 1822.
.
Himalaya to Assam: Assam, East Himalaya, Nepal, West Himalaya as per POWO;
.
---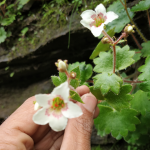 I'd requested ?:
Seems like saxifraga sp..
Doda J&K
Alpine meadows above tree line 
June 2019..
---
Please check !
https://efloraofindia.com/2011/03/28/saxifraga/
---
Sir it didn't match to anyone listed on given link… leaves and the dotted structure present at the neck of corola is looks different..
---
What are the species listed in your area?
---
Saxifraga asarifolia 
Saxifraga brachypoda 
Saxifraga brunonis
Saxifraga cernua
Saxifraga diversifolia
Saxifraga hirculus 
Saxifraga filicaulis 
Saxifraga flagellaris
Saxifraga jacquemontiana 
Saxifraga pallida 
Saxifraga parnassifolia
Saxifraga pseudo-pallida 
Saxifraga pulvinaria 
Saxifraga sibirica 
---
These are some of the species we have seen or collected but none of these matched to the specimen …
---
It is Saxifraga asarifolia.
---
---
.
References:
POWO  Catalogue of Life  The Plant List Ver.1.1  IPNI  GBIF (High resolution specimens) High resolution specimen  Flora of Pakistan  FOP illustration Pan India Bouquets  botanical.mmts