Mycaranthes floribunda (D.Don) S.C.Chen & J.J.Wood, Fl. China 25: 348 (2009) (syn: Callista floribunda (D.Don) Kuntze; Dendrobium floribundum D.Don; Eria paniculata Lindl.; Mycaranthes paniculata (Lindl.) Schuit., Y.P.Ng & H.A.Pedersen; Pinalia paniculata (Lindl.) Kuntze);
.
Central Himalaya to China (S. Yunnan) and Borneo: Assam, Bangladesh, Borneo, Cambodia, China South-Central, East Himalaya, Laos, Myanmar, Nepal, Thailand, Vietnam as per POWO;
.
---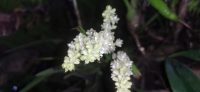 I'd of an orchid from Sikkim Himalayan region: 1 image.
Kindly help in the identification of the orchid in bloom from Sikkim
---
Looks like Eria / Pinalia.
---
The picture was sent by someone else for id. I will check the posting rules and post accordingly in future.
---
Would like to see more pics. But it looks like Eria paniculata (Mycaranthes paniculata).
---
---
.
References:
POWO  Catalogue of Life  GBIF (High resolution specimens) Flora of China  FOC illustration  India Biodiversity Portal  IOSPE Photos  Naresh Swami  orchidroots