Ranunculus munroanus J. R. Drumm. ex Dunn, Bull. Misc. Inform. Kew 1925: 279 (1925) ;
.
NE. Pakistan to W. Tibet and Nepal: Nepal, Pakistan, Tibet, West Himalaya as per POWO;
.
---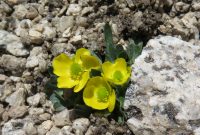 Ranunculus sp?: 1 very high res. image.
Can someone please identify this.
Photographed in Ladakh between 4500 and 5000m Warila
---
Try to see if it is available at
https://efloraofindia.com/2011/03/26/ranunculus/
---
Ranunculus jacquemontii Riedl !
---
I pursued 'Srivastava SK (2010) Revision of genus Ranunculus L.(Ranunculaceae) in India. Taiwania 55(3): 273-314′. (I have sent it to your mail ids separately)
As per description and illustration here, I find it closer to 
Ranunculus munroanus
J.R.Drumm. ex Dunn. Also see 
POWO
 and 
GBIF
.
---
---
.
References:
POWO  Catalogue of Life  GBIF  Flora of China  Flora of Pakistan  FOP illustration Annotated checklist of Flowering plants of Nepal  Pan India Bouquets  India Biodiversity Portal