Ceropegia ensifolia Bedd., Madras J. Lit. Sci., ser. 3, 1: 52 (1864) (syn: Ceropegia albiflora Hook.f.; Ceropegia ciliata subsp. ensifolia (Bedd.) H.Huber);
.
India (SW-Ghats (Kerala, Tamil Nadu)) as per CoL;
.
Common name: Sword-Leaf Ceropegia
.
---
Glabrous twiner; tuber 2.5 cm across, subglobose. Leaves to 10 x 0.5 cm, linear-lanceolate, acuminate, base attenuate into a short petiole. Cymes 5-10 cm long, axillary, pubescent. Flowers green, few together; sepals 4 x 1 mm, lanceolate; corolla tube 1.5 cm long, slightly dialated below, narrow above; lobes 1.5 cm long, oblong, glabrous; outer corona 2 mm across, lobes deltoid, ciliate; inner corona spathulate, 1.5 mm long, ciliate towards base.
Flowering and fruiting: August-October
Grasslands
(Attributions: Dr. N Sasidharan (Dr. B P Pal Fellow), Kerala Forest Research Institute, Peechi as per India Biodiversity Portal)
.
---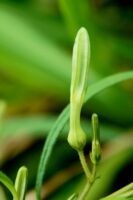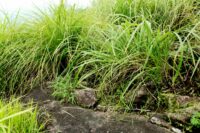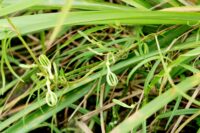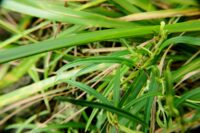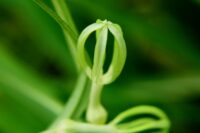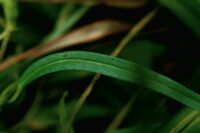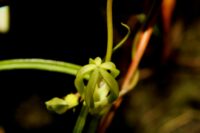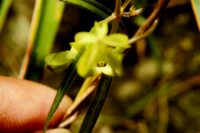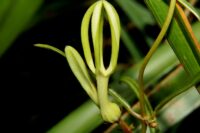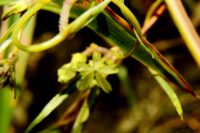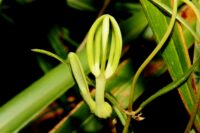 357 ID wild climber Ceropegia: 14 high res. images.
Please ID wild climber,
Location: near Vannappuram, Thodupuzha, Idukki Dist., Kerala PIN:685607
Altitude: 1500fsl
Flower date: 17AUG2022, 02.25pm
Habitat: wild moisture, misty rocky hill, wind
Plant habit: climbing, branches, slender weak stem 022mm base diameter, perennial
Height: 02 feet
Leaves: opposite, lengthy, acute, haired margins, size upto:10×0.9cm
Flower: axillary racemose, size:03×1cm, green, non fragrant
Fruit:
Seed:
Camera: CANON EOS1500D +FL10x
---
Ceropegia ensifolia Bedd.
---
Yes, it is Ceropegia ensifolia, dear …, thank you very much for ID my plant,
---
---
.
References:
POWO  Catalogue of Life  BSI Flora of India Checklist  Flora of peninsular India Flowers of India  India Biodiversity Portal  IBIS Flora
Taxonomic revision of Ceropegia (Apocynaceae: Ceropegieae) in India (pdf), Kambale S.S. & S.R. Yadav, Rheedea Vol. 29(1): 01–115 (2019)
Illustrated Handbook of Succulent Plants: Asclepiadaceae …, Volume 4 edited by Focke Albers, Ulrich Meve