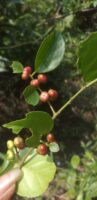 Regarding identification of the species: 1 image.
Here with I am attached photo graph of a species for identification.
Habit/Habitat : Near the stream 
Cleistanthus patulus!!
---
It resembles Some Celastraceae members …, once check properly, if possible try for flowers,
---
Leaves are not toothed in Cleistanthus patulus (Roxb.) Müll.Arg. as per images and details herein and BSI Flora of India
Fruits also appear to be 4 locular.
---
Euonymus is possible.
Pl. see
https://efloraofindia.com/2011/03/01/euonymus/
---
it is not Cleistanthus
---