Dioscorea wattii Prain & Burkill, J. Proc. Asiat. Soc. Bengal 4: 457 (1908);
.
E. Himalaya to Bangladesh: Assam, Bangladesh, East Himalaya as per POWO;
.
---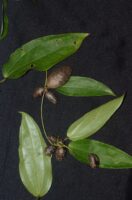 MS,Sept,2022/03 Smilax sp. for id:
Location : Rescue Centre, Sihphir, Mizoram
---
Dioscorea !
---
What are the species of Dioscorea reported from your area?
---
Sorry !! Not available in my books.
---
In the Flora of the Lushai Hills, the following spp. are listed/recorded :- Dioscorea alata, D bulbifera, D. glabra, D. pentaphylla, D.sativa and D.trinervia
---
I think it may be D.glabra as per GBIF specimen.
Flora of China says:
Leaves alternate basally on stem, opposite distally on stem, simple; leaf blade drying blackish, usually ovate or long elliptic-ovate to lanceolate, 5–17(–24) × 0.5–10(–13) cm, glabrous, basal veins 5–9, base cordate to truncate or rounded, rarely sagittate or hastate, apex acuminate or caudate. 
---
Dioscorea oppositifolia
---
Going by distribution in BSI Flora of India, D.glabra is more likely.
BSI Flora of India does not give any distribution in your area for Dioscorea oppositifolia L.
---
Ok, thanks sir
---
Dioscorea wattii ?
---
Who suggested the id?
It seems possible as per GBIF specimens- one.
But difficult to say without inflorescence.
---
Suggested by Rohan Maity, BSI, Itanagar, A.P.
---
Yes, we should follow his advice.
---
---
.
References:
POWO  Catalogue of Life  GBIF specimens- one  (High resolution specimens) BSI Flora of India Checklist  India Biodiversity Portal  IBIS Flora