Lonicera rupicola Hook. fil. & Thoms., J. Proc. Linn. Soc., Bot. 2: 168 (1858) (syn: Caprifolium rupicola Kuntze, Devendraea rupicola (Hook.f. & Thomson) Pusalkar; Lonicera rupicola subsp. thibetica (Bureau & Franch.) Y.C.Tang, Lonicera thibetica Bureau & Franch.);
.
Himalaya to N. & Central China: China North-Central, China South-Central, East Himalaya, Inner Mongolia, Nepal, Qinghai, Tibet as per POWO;
.
---
A rigid shrub 1-4 ft tall. Young branchlets pubescent, hairy, becoming leafless and sub-spinescent. Leaves opposite, oblong or oblong-lanceolate, 1-1.4 x 0.3-0.5 cm across, subobtuse at both the ends, subglabrous above, tomentose beneath, base subtruncate, margin entire or very slightly undulate, apex acuminate to acute, petiole about 1-2 mm long. Flowers axillary in pairs on young branches;peduncle hardly if any or very short, bracts linear obovate or linear oblanceolate, 0.4 cm long, often subfoliaceous, tomentose beneath, bracteoles small quadrate, distinct obsolete in the fruit; calyx glabrous, 5 lobed, calyx teeth about 0.3 cm long, narrow lanceolate pubescent. Corolla purplish-red, tubular, minutely hairy, corolla tube 0.6 x 0.3 cm, crowned by long calyx teeth. Stamens 5, half the length of the corolla, style half the length of the corolla. Fruit berries, red when ripe, 0.4-0.6 cm in diameter.
Flowering/Fruiting: May-August.
Forests at an altitude of about 7,000-17,000 ft.
(Attributions: Ganeshaiah, K. N., UAS, Bangalore, India. | Kailash, B. R., UAS & ATREE, Bangalore, India as per India Biodiversity Portal);
.
---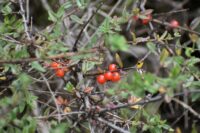 Requesting id .:  1 very high res. image.
Kindly help in the identification of a high elevation shrub with red berries. The plant somewhat resemble berberis but with no thorns.
Kindly check the attached photograph.
---
Rosa species?
---
I tried in Rosaceae but could not pinpoint the genus.
---
Possibility of Lonicera sp??
Kindly check.
---
This is a species of Lonicera
---
It's seems to be Lonicera species
---
Perfect match with Lonicera rupicola.
---
---
.
References:
POWO  Specimen  Catalogue of Life  Flora of China  FOC illustration  Annotated checklist of Flowering plants of Nepal  India Biodiversity Portal  Bhutan Biodiversity Portal  Asian Flora  trees and shrubs online  hortipedia