Marsdenia formosana Masam., J. Soc. Trop. Agric. 2: 241 (1930) ;
.
S. Nansei-shoto to Taiwan, China (Yunnan): China South-Central, Nansei-shoto, Taiwan as per POWO;
.
---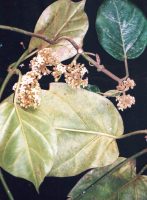 MS,Sept.,2022/06 Marsdenia sp. for id.:
Location : Darlawn, Mizoram
Habit : A large climber with white flowers; stem exuding white latex.
Note : Young stem and leaves are used as a vegetable.
---
Any keys for Gymnema/ Marsdenia from your area?
---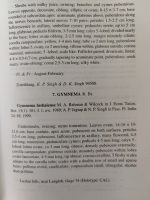 ---
Is it not the same as in another post: MS,Sept.,2022/07 Marsdenia sp. ? for id. (id suggested as Marsdenia roylei Wight) ?
---
This plant could not identify by BSI, Shillong, and sent the Herbarium specimen to the Central National Herbarium, Howrah and identified as Marsdenia formosana.
---
Appears close as per 
GBIF
 images (Most of the images and specimens from Taiwan).
But I could not find its distribution in our area or even in Mynamar as per 
POWO
.
---
Ok, thanks sir. My no.MS,Sept.,2022/07 Marsdenia sp. is also M. formosana, I think.
---
I think you may be right.
---
---
.
References:
POWO  Catalogue of Life  GBIF (High resolution specimens)  Flora of China