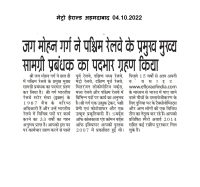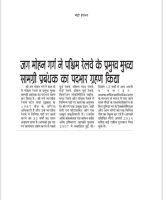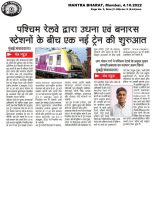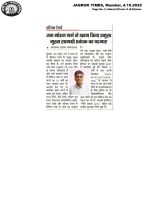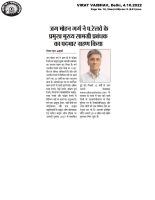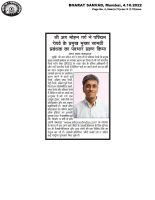 J. M. Garg as PCMM/WR – Paper publicity: 7 images.
Pl find the paper publicity cuttings for kind perusal.
---
Nice to read. Many congratulations !
---
I was refusing this leadership role for last one and a half years, due to shifting from Google sites to WordPress site. Finally decided to take the plunge for next two and a half year.
---
Hearty congratulations Garg ji. Reward to your sincerity
---
Nice to know. Congratulations Garg ji.
---
Congratulations Garg ji.
---
Hearty congratulations Garg ji.
---
Heartly congratulations Garg sir 🎉🥳🌿🙏
---
For those who do not understand Hindi, I am giving in English:
New Posting of Principal Materials Manager at Western Railway
Shri Jag Mohan Garg, who has joined on 30.09.2022 in Western Railway as Principal Chief Materials Manager in HAG grade, is an Indian Railway Stores Service (IRSS) officer of 1987 batch. He has more than 33 years of experience working with Railways in various capacities in Eastern Railway, South Central Railway, Metro Railway, South Eastern Railway, Chittranjan Locomotive Works, Central Railway and Western Railway.
He is an avid trekker, bird watcher & photographer and naturalist par excellence. He strongly believes in giving back to society, whatever one can. He has freely shared his collection of tens of thousands of images on Wikimedia Commons and worked intensely on Wikipedia and Wikispecies, for which he has been conferred numerous awards. His book on 'Birds of Kolkata and Common Birds of India' was published in 2007. He has also held many exhibitions mainly focusing on Bird Photography. For last 15 years, he has been leading a diverse team of taxonomists and laymen alike from all over the world, for documenting Plants found in India through his website "
www.efloraofindia.com
". Today, it is the largest resource on Indian Flora with more than 4 lakh images of around 4000 species, which is very useful not only to a layman, but also to the researchers and all sections of the society. This is a 1st work in the making on such a scale, after the seminal work of Dr. J D Hooker in 2nd half of 19th century. He has received many national awards including the prestigious "Sparrow Award 2014".
---
Very very impressive.
Hearty congratulations Garg ji for your dedicated service to humanity.
---
Many congratulations Mr Garg! I am very happy to see you receive this well-deserved success.
---
Hearty congratulations Garg ji!
---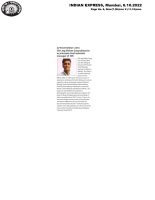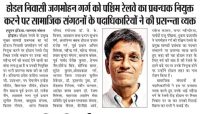 In English Indian Express and others.
Thanks to all of you for the best wishes.
---
Congratulation Mr. Garg.
---