Gynura pseudochina (L.) DC., Prodr. 6: 299 (1838) (syn: Cacalia bulbosa Lour., Cacalia maculata Buch.-Ham. ex Steud., Cacalia sagittaria B.Heyne, Crassocephalum miniatum Hiern, Crassocephalum pseudochina Kuntze, Gynura bodinieri H.Lév., Gynura bulbosa Hook. & Arn., Gynura eximia S.Moore, Gynura miniata Welw., Gynura nudicaulis Arn., Gynura rusisiensis R.E.Fr., Gynura sagittaria DC., Gynura sinuata DC., Gynura somalensis (Chiov.) Cufod., Gynura variifolia De Wild., Senecio bulbosus Sch.Bip., Senecio crassipes H.Lév. & Vaniot, Senecio hamiltonianus Sch.Bip., Senecio miniatus (Welw.) Staner, Senecio nudicaulis Sch.Bip., Senecio pseudochina L., Senecio somalensis Chiov.);
.
Tropical Africa, Indian Subcontinent to S. China and Indo-China, Jawa: Angola, Assam, Burundi, Cambodia, Cameroon, Central African Repu, China South-Central, China Southeast, East Himalaya, Ethiopia, Gabon, Ghana, Hainan, India, Jawa, Malawi, Myanmar, Nepal, Nigeria, Rwanda, Sierra Leone, Somalia, Sri Lanka, Thailand, Vietnam, Zambia, Zaïre as per POWO;
.
---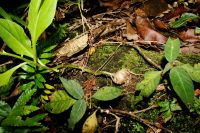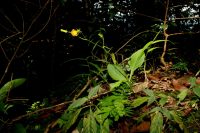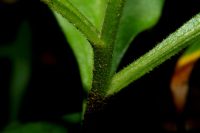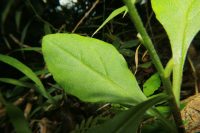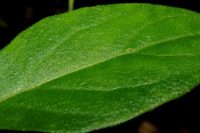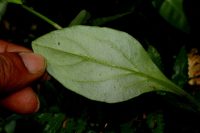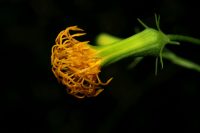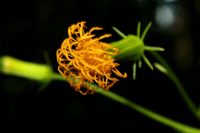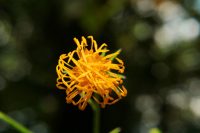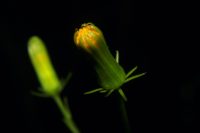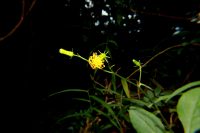 373 ID wild plant:
Please ID wild plant,
Location: near Vannappuram, Thodupuzha, Idukki Dist., Kerala PIN:685607
Altitude: 1500fsl
Flower date: 08OCT2022, 12.50pm
Habitat: wild moisture, misty hill, no sunlight
Plant habit: small shrub erect/obliquely, un branched, weak fleshy stem, hairy, tuberous, perennial
Height: 20cm
Leaves: alternate, elliptic, acute, soft fleshy, glossy, winged petiole, size:14×8cm
Flower: terminal spike racemose clustered, semi globular, size:12x18mm, yellow, non fragrant
Fruit:
Seed:
Camera: CANON EOS1500D +FL10x
---
Gynura sp.
---
Maybe Gynura nepalensis?
---
Also check comparative images at https://efloraofindia.com/2011/03/03/gynura/
---
Looks more close to Gynura cusimbua (D. Don) S. Moore since there seems to be no distribution of Gynura nepalensis DC. for Kerala and south India.
---
Your complete photography showing all parts is highly appreciated.
---
---
.
References:
POWO specimen  Catalogue of Life  GBIF (High resolution specimens) BSI Flora of India  Flora of China  FOC illustration  Flora of peninsular India  Flowers of India  India Biodiversity Portal  iNaturalist  singapore.biodiversity  Useful Tropical Plants