Cyperus diffusus Vahl, Enum. Pl. Obs. 2: 321 (1805) (syn: Cyperus bancanus var. brevibracteatus E.G.Camus ; Cyperus buettneri Boeckeler ; Cyperus calacaryensis Steud. ; Cyperus diffusus var. brevibracteatus (E.G.Camus) Kük. ; Cyperus diffusus f. celebicus (Miq.) Kük. ; Cyperus diffusus var. macrostachyus Boeckeler ; Cyperus diffusus subsp. macrostachyus (Boeckeler) T.Koyama ; Cyperus diffusus var. multispicatus S.M.Huang ; Cyperus diffusus var. pubisquama (Steud.) Kük. ; Cyperus holophyllus Miq. ex de Vriese ; Cyperus holophyllus var. celebicus Miq. ; Cyperus iridifolius A.Dietr. ; Cyperus lagorensis Steud. ; Cyperus laxus var. macrostachyus (Boeckeler) Karth. ; Cyperus laxus subsp. macrostachyus (Boeckeler) V.P.Prasad & N.P.Singh ; Cyperus laxus var. multispicatus (S.M.Huang) S.M.Huang ; Cyperus moestus Kunth ; Cyperus nigroviridis Thwaites ; Cyperus parciflorus Link ; Cyperus pubisquama Steud. ; Cyperus sarzogonensis J.Presl & C.Presl ; Cyperus scirpoides J.Presl & C.Presl; Eucyperus diffusus (Vahl) Rikli  );
.
Tropical & Subtropical Asia to Queensland: Andaman Is., Assam, Bangladesh, Bismarck Archipelago, Borneo, Cambodia, China South-Central, China Southeast, East Himalaya, Hainan, India, Jawa, Laos, Malaya, Maluku, Myanmar, Nepal, New Guinea, Nicobar Is., Queensland, Solomon Is., Sri Lanka, Sulawesi, Sumatera, Taiwan, Thailand, Tibet, Vietnam as per POWO;
.
---
Erect, single or tufted, perennials; rhizome short, corm-like, covered with brown scales; culms 45-100 cm tall, trigonous, triquetrous below the inflorescence. Leaves several, basal, 37-95 x 1-2 cm, linear, abruptly acute at apex, flattish margins scabrous, prominently 3-nerved; sheaths upto 10 cm long, purple-brown. Inflorescence compound to decompound, 20-35 cm across, diffuse; primary rays many; leafy bracts 5-9, the longest upto 73 cm long and 2 cm wide. Spikelets sessile, 8-12 x 1.5-2 mm, linear-oblong, flattened, acute, 25-30-flowered. Glumes c. 1.5 x 1 mm, ovate-obtuse, closely imbricating, strongly keeled, keel excurrent into a mucro, margins white-hyaline. Stamens 2-3. Stigmas 3. Nut c. 1.5 x 0.5 mm, ellipsoid, triquetrous, apiculate, dark brown to black.
Flowering and fruiting: December-August
Marshy areas of evergreen forests
(Attributions: Dr. N Sasidharan (Dr. B P Pal Fellow), Kerala Forest Research Institute, Peechi as per India Biodiversity Portal)
.
---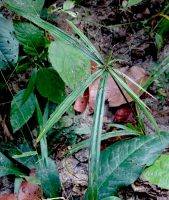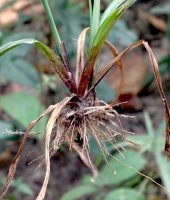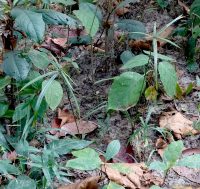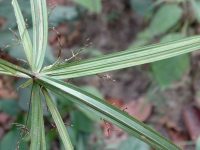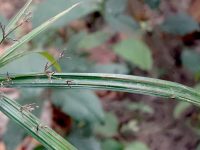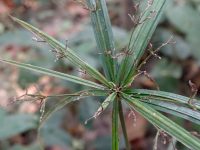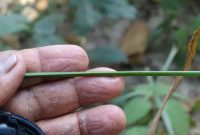 SK 3682 28 January 2023 – Grass: 7 very high res. images.
Location: Jalthal, Jhapa, East Nepal
Elevation: 67 m.
Habitat: Wild
Cyperus ? Which one ?
---
Yes, it appears so. But could not find any match as per comparative images at
https://efloraofindia.com/2011/02/23/cyperus/
What are the species listed in your area?
---
Suggested to be Cyperus diffusus Vahl !
---
Who has suggested it?
---
Prabin Bhandari, working researcher on Cyperus.
---
---
.
References:
POWO  Catalogue of Life  GBIF (High resolution specimens) Flora of China  FOC illustration  Annotated checklist of Flowering plants of Nepal  India Biodiversity Portal  Wikipedia  Useful Tropical Plants