Strobilanthes simonsii T. Anderson, J. Linn. Soc., Bot. 9: 474 (1867);
.
Bhutan to SE. Tibet and Assam: Assam, East Himalaya, Tibet as per POWO;
.
Common name: White East-Himalayan Coneflower
.
---
Similar in general habit to S. echinata. Stems pilose. Leaves elliptic, falcate, not more than 9 x3cm, pubescent on both surfaces but with veins beneath highlighted with longer hairs. Inflorescence similar to that of S. echinata but branchlets with 1-3 heads. Outer bracts 2, pilose, dissimilar, larger one 3-4cm, ovate, entire with elongate, lanceolate, falcate, dentate appendage, smaller one 1.3-2cm, oblong-lanceolate with dentate subfimbriate tip; inner bracts lanceolate , 2.5-3cm, acuminate, tip crenate; bracteoles lanceolate, 16-19mm, acuminate, pilose. Calyx 14mm, pubescent, lobes linear, acuminate into long fine point. Corolla pure white, 35-42mm, gradually widened from shortly cylinderical base to c 15mm, glabrous. Caspsule c 15mm, glabrous.
Fl. March-August
(Attributions: A.J.C. GRIERSON & D.G. LONG. Flora of Bhutan. Published by RBGE and RGOB. 2001 as per Bhutan Biodiversity Portal)
.
---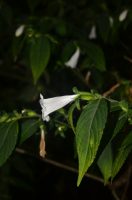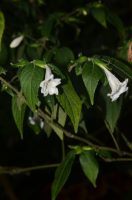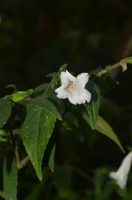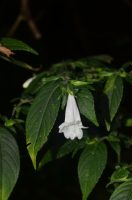 MS, April, 2023/07 Strobilanthes sp. for id.: 5 images.
Location : Hmuifang, Mizoram
This is Strobilanthes simonsii T. Anderson. Nice picture of an uncommon species.
---
---
.
References:
POWO  Catalogue of Life  BSI Flora of India  Flora of China  FOC illustration  Flowers of India  Bhutan Biodiversity Portal  India Biodiversity Portal  IBIS Flora