Pluchea sagittalis (Lam.) Cabrera, Bol. Soc. Argent. Bot. 3: 36 (1949) (syn: Conyza brasiliensis Steetz ; Conyza quitoc (DC.) Peterm. ; Conyza sagittalis Lam.; Gnaphalium suaveolens Vell. ; Placus suaveolens Baill. ; Pluchea quitoc DC. ; Pluchea suaveolens (Vell.) Kuntze ; Pluchea tweediei Hook. & Arn. ex Baker);
.
Trinidad to S. Tropical America: Argentina Northeast, Argentina Northwest, Bolivia, Brazil North, Brazil Northeast, Brazil South, Brazil Southeast, Brazil West-Central, Colombia, Florida, Paraguay, Trinidad-Tobago, Uruguay, Venezuela as per POWO;
.
---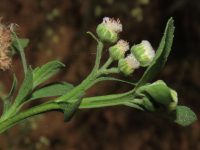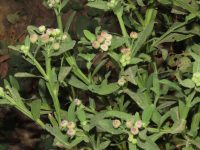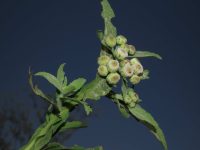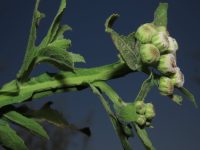 Pluchea sagittalis for addition to Database:: NS June 2023: 4 high res. images.
Here is a new addition to our database, and specially significant to me for two reasons:
1. It is being shared from a locality I love the most, my parental place.
2. The pics are almost earliest pics, if not the first 100, through my recent camera.
I know I am bit inactive here, I am pleased to share this.. if anyone can throw light on its distribution in India, it will be great..
I hope the identification is okay..
---
A very good find.
But I could not find any details of it being reported from India or nearby areas.
Has it been published earlier from India?
---
You can further check
https://efloraindia.bsi.gov.in/eFlora/taxonList.action?id=6332&type=13
https://efloraindia.bsi.gov.in/eFlora/taxonList.action?id=6339&type=3
---
I could not find any published article pertaining to this taxon, from India..
---
this looks like Erigeron bonariensis, or something close to it.
---
It is quite distinct from Erigeron bonariensis, in every aspect..it is aromatic, with winged stem, wider lance-like leaves, larger heads etc.
---
How about Laggera alata, although the heads do looks different?
---
Looks different as per images at
https://efloraofindia.com/2012/07/28/laggera-alata/
---
At least not listed in BSI document (Mao & Dash, 2020, Flowering Plants of India An Annotated Checklist) by this name or any other synonym mentioned in POWO.
---
Pl see this link:
Or search in this database for distribution:
Probably not known in Old World !
---
---
.
References:
POWO  Catalogue of Life  GBIF (High resolution specimens)