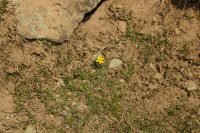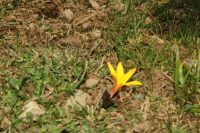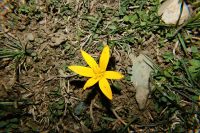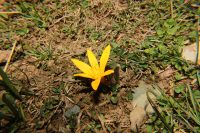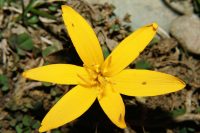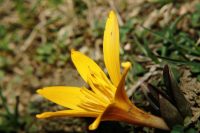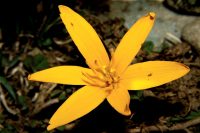 457 ID wild plant Gagea: 7 high res. images.
Please ID wild plant,
Location: bloomed in The HIMALAYAS at Sonamarg Jammu & Kashmir INDIA
Altitude: 8100fsl
Flower date: 13APR2023, 01.35pm
Habitat: wild snowy meadows
Plant habit: small shrub, erect, unbranched, perennial
Height: 08cm
Leaves: whorled purplish curved elliptic obtuse apex, simple smooth fleshy size upto:03×1cm
Flower: terminal buds, 06 petals, diameter:06cm, yellow, non fragrant
Fruit:
Seed:
Camera: CANON EOS1500D +FL10x
---
As the leaves are not clear, let us keep it as a Gagea species only.
---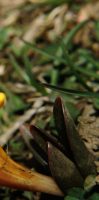 I agree with you.  This Gagea ID 457 and 456 are growing very closely in the same location. This Gagea leaves (only four is visible) are very small greenish purple in colour, were as leaves of Gagea 456 is comparatively big and more visible at the same time.  Sharing an expanded image of leaves.
1 image
---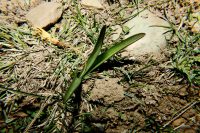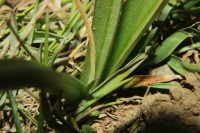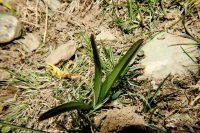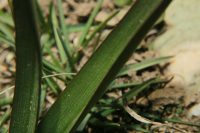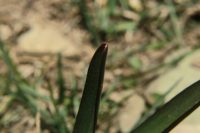 Sharing more images from nearby surroundings, flower died but it is basel and centered.  So I think it is of the same kind plant and which is pointing that after flower death, leaves getting maturity.
5 images.
---
May be the following:
https://efloraofindia.com/2019/09/14/gagea-fragifera/
---
My ID 438 and 456 having stem inflorescence, but please observe this ID 457 is of basal inflorescence.
---
Maybe different.
I am not sure.
---