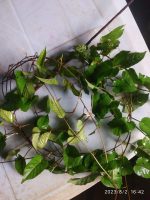 Regarding identification of plant: 1 image.
Kindly help me to identify the plant attached
---
When and where was it clicked?
---
The picture was clicked
in Orissa
on August 1.
The plant is a creeper
and was told that it belongs to
ipomoea
species.
Kindly help me with identification.
---
It is difficult to say can also be from
https://efloraofindia.com/2011/01/22/apocynaceae/
Difficult to id with this image only.
---