Craterostigma plantagineum Hochst., Flora 24: 669 (1841) (syn: Torenia plantaginea (Hochst.) Benth. );
.
Tropical & Northern Prov., SW. Arabian Peninsula, India: Angola, Botswana, Burkina, Burundi, Chad, Eritrea, Ethiopia, India, Kenya, Namibia, Niger, Northern Provinces, Rwanda, Saudi Arabia, Somalia, Sudan, Tanzania, Uganda, Yemen, Zambia, Zaïre, Zimbabwe as per POWO;
.
Common name: Blue Carpet Flower, Plantain Wishbone Flower
.
---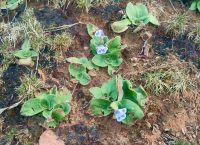 Craterostigma plantagineum Hochst. in flowering at Rajasthan: 1 high res. image.
Last year I came across the plants of Craterostigma plantagineum of the Linderniaceae family at Chittorgarh, RJ. However, upon searching the efloraofIndia database, I noticed this species is not yet discussed here. I am genuinely curious to learn more about the distribution of C. plantagineum in India.
I would appreciate member's expertise and help in providing more information about the distribution of this unique resurrection plant species in India.
---
---
.
References:
POWO  Catalogue of Life  BSI Flora of India Checklist  Flowers of India  Wikipedia  Flora of Caprivi  westafricanplants
The Genus Craterostigma Hochst. (Scrophulariaceae) in India: J. K. Maheshwari, V. Singh- Nelumbo Volume 13, Issue 1-2, 1971