Setaria homonyma (Steud.) Chiov., Nuovo Giorn. Bot. Ital., n.s., 26: 78 (1919) (syn: Panicum chamaeraphis Nees ex A.Braun ; Panicum homogynum Duthie ; Panicum homonymum Steud.; Setaria aequalis Stapf ; Setaria homonyma var. depauperata Babu ; Setaria kialaensis Vanderyst ; Setaria lancea Stapf ex Massey);
.
Cameroon to Ethiopia and S. Africa, Indian Subcontinent to Myanmar: Angola, Botswana, Burundi, Cameroon, Caprivi Strip, Congo, East Himalaya, Ethiopia, Gabon, India, Kenya, KwaZulu-Natal, Malawi, Mozambique, Myanmar, Namibia, Northern Provinces, Rwanda, Sudan, Tanzania, Uganda, West Himalaya, Zambia, Zaïre, Zimbabwe as per POWO;
.
---
Annuals. Culms 20-70 cm long, creeping or decumbent, rarely erect; nodes softly bearded or glabrous. Leaves elliptic or elliptic-lanceolate, 2-15 x 0.5-2.5 mm, acuminate, rounded or narrowed at base, slightly plicate towards base, glabrous or sparsely villous. Sheaths keeled, sparsely hispid or glabrous. Ligule a row of hairs. Panicles pyramidal or linear-oblong, 5-12 cm long, lax; racemes sparsely spiculate; bristles 2-10 mm long, more or less straight, scabrid. Spikelets ovate-oblong or elliptic, 2-3 ,1-1.5 mm. Lower glume ovate, 0.5-1 x 0.5-1 mm, chartaceous, 3-5 nerved. Upper glume ovate-oblong or elliptic, 2-3 x 1-1.5 mm, chartaceous, 5-7-nerved. Lower floret barren. Upper floret bisexual. First lemma similar to the upper glume. Palea oblong-lanceolate, 1-2 x 0.5 mm, delicate, 2-keeled, 2-nerved. Second lemma elliptic or elliptic-lanceolate, 1-2.5 x 1-1.5 mm, coriaceous, rugose, faintly 5-7-nerved. Palea elliptic, 1-2 x 1 mm, coriaceous, rugose, 2-keeled. Stamens 3, anthers c. 1 mm long. Ovary oblong, c. 0.5 x 0.2 mm; styles 1-1.5 mm long; stigmas 1-1.5 mm long.
Flowering and fruiting: September-January
Scrub jungles
(Attributions: Dr. N Sasidharan (Dr. B P Pal Fellow), Kerala Forest Research Institute, Peechi as per India Biodiversity Portal)
.
---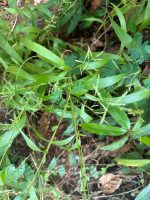 ID KZD 06/21/10/23: 1 high res. images.
Please identify this grass from Kozhikode district of Kerala, 22/10/23
---
Setaria homonyma
---
---
.
References:
POWO  Catalogue of Life  Flora of Zimbabwe  Flora of Karnataka  India Biodiversity Portal  iNaturalist  africanplants