commonly known as: grey downy balsam • Assamese: পমা pama • Bengali: jum, কপিল kapila • Garo: dumi • Gujarati: કાકેઢ kaked, ખુસિંબ khusimb • Hindi: खरपात kharpat • Kannada: ಅರನೆಲ್ಲಿ aranelli, ಬಿಳಿಗಡ್ಡೆ biligadde, ಕಾಷ್ಠನೆಲ್ಲಿ kaashthanelli • Konkani: कुडक kudak • Malayalam: അണ്ണകാര annakaara, കാട്ടുനെല്ലി kaattunelli • Marathi: काकड kakad, कणगर kanagar • Mizo: bungbu tuairam • Nepalese: दबदबे dabdabe • Oriya: kekadogatcho • Sanskrit: कर्णिकारः karnikarha, किङ्किरातः kinikirath • Sikkimese: dapdapay • Tamil: அருநெல்லி arunelli, கருவேம்பு karuvempu • Telugu: గరుగ garuga, కొండ వేప konda vepa ;
gah-REW-guh — from Telugu, the language of the Coromandel coast of India, garuga
pin-NAY-tuh — feather-shaped
Native to: southern China, Indian sub-continent, Indo-China, Malesia
.
Garuga is a deciduous tree reaching 50 ft in height, with bark pealing off in flakes.
Leaves are pinnate, 6-18 in. long, with 6-10 pairs of leaflets and a lone one at the tip. Leaflets are opposite or nearly so, 3-6 in. long, lance-shaped, with a tapering tip, toothed margin, softly hairy when young, ultimately smooth. 
Flowers are small, creamy white or yellow, in much branched, velvety pinnacles in leaf axils or at the ends of the branches. Sepal cup is small, cupped, hairy inside. Petals are linear-oblong, hairy outside, sparsely velvety within, attached to the sepal tube beneath the margin of the disc, tip thickened, inflexed. 
Fruits are round, fleshy, size of a gooseberry, green at first, and yellow to blackish in the end.
The fruits are eaten raw or pickled.
---
---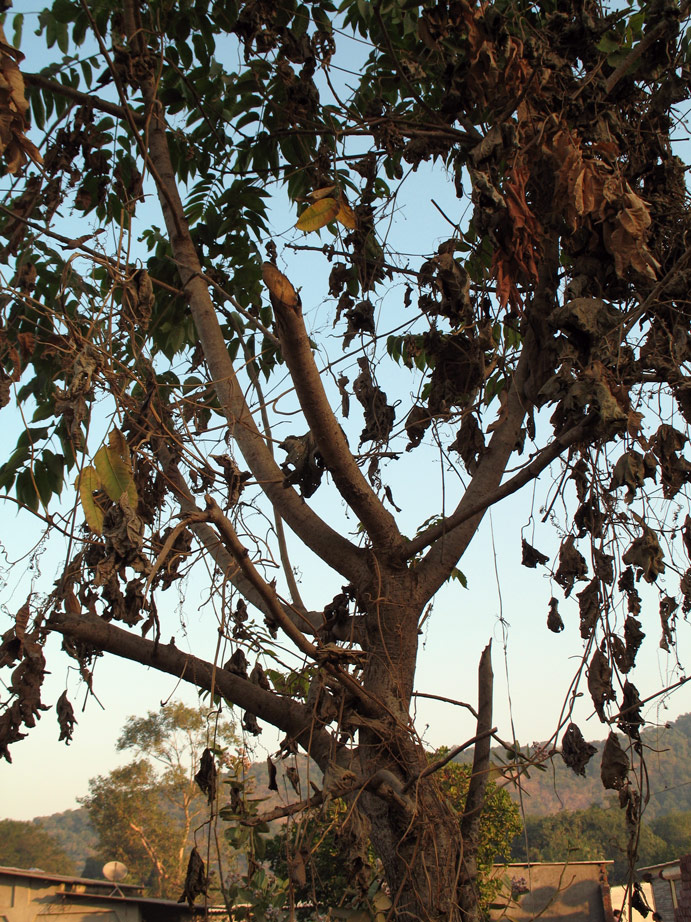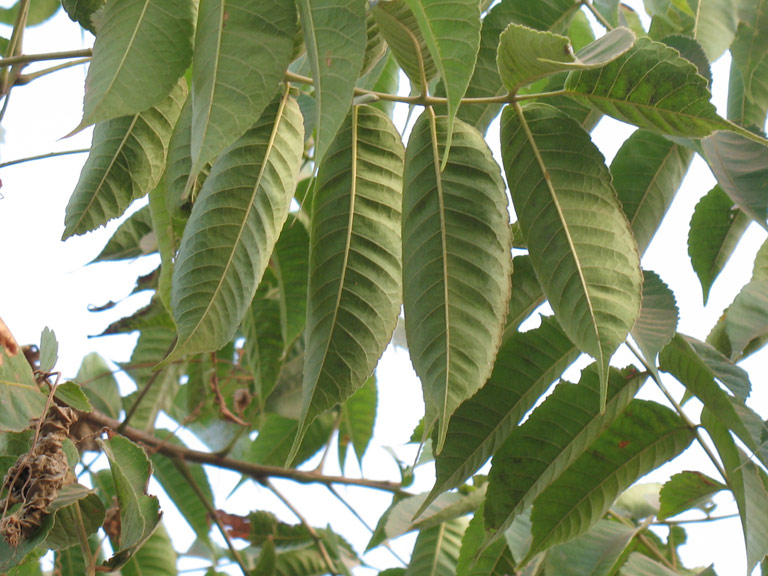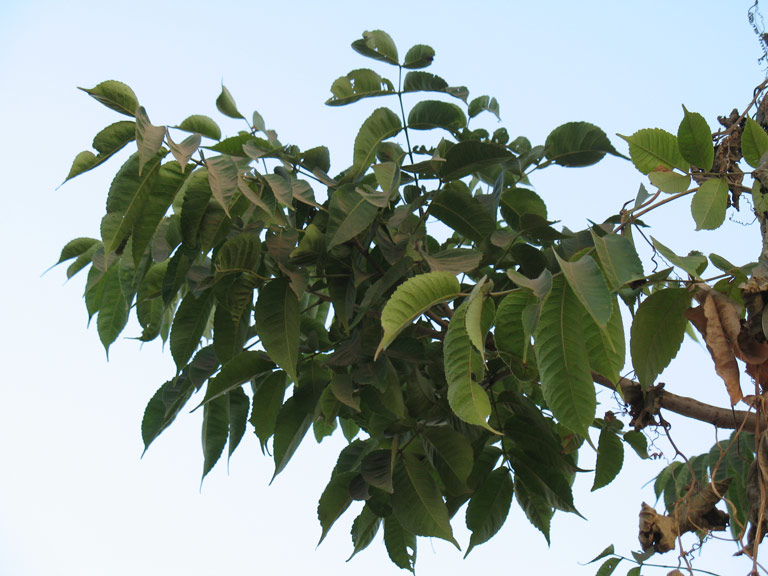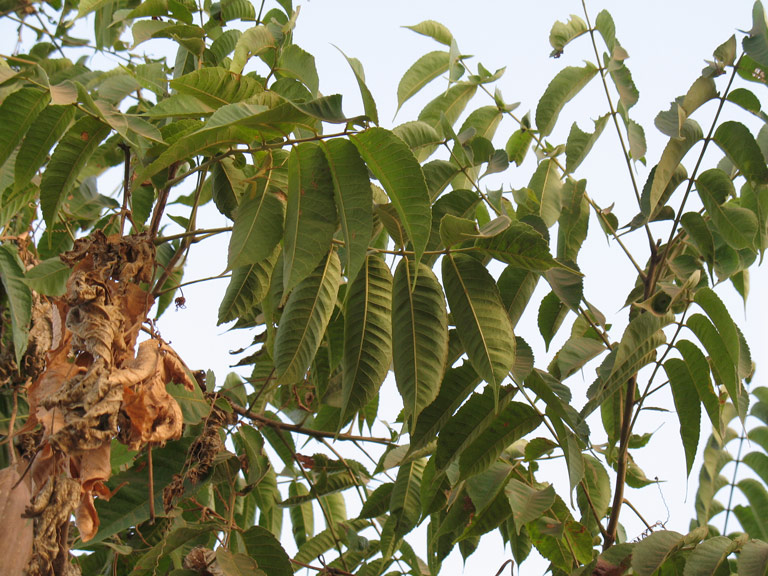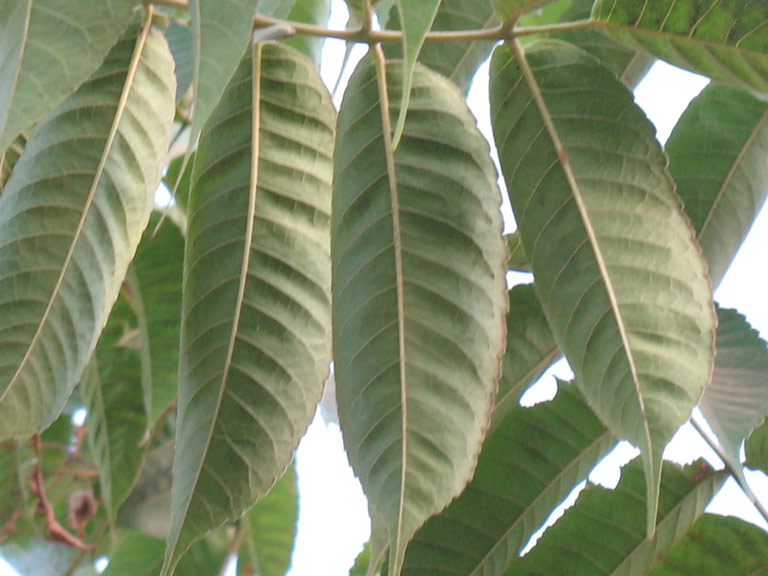 Tree ID request – RK66 – 25-Dec-2012:
Request identification of this tree from Tungareshwar. No flowers and fruits observed. Thanks.
---
Garuga pinnata, I suppose.
---
Me too with Garuga pinnata of Burseraceae.
---
Yes it is Garuga pinnata, i agree with all.
---
This does not look like
Kakad
[
Garuga
pinnata
] to me. My photographs of the leaves for comparison are available at
this link
Will have to wait for it to flower / fruit for a definte diagnosis.
---
It is Kakad (Garuga pinnata Roxb.) family Burseraceae..
---
---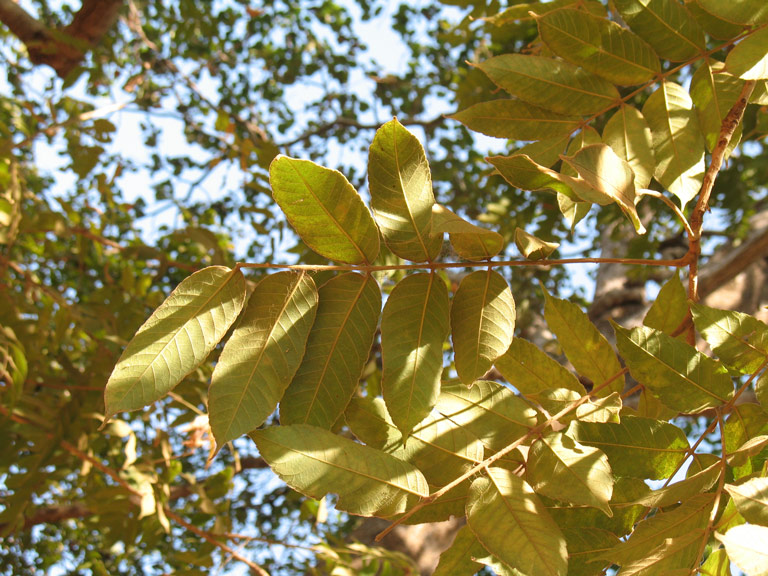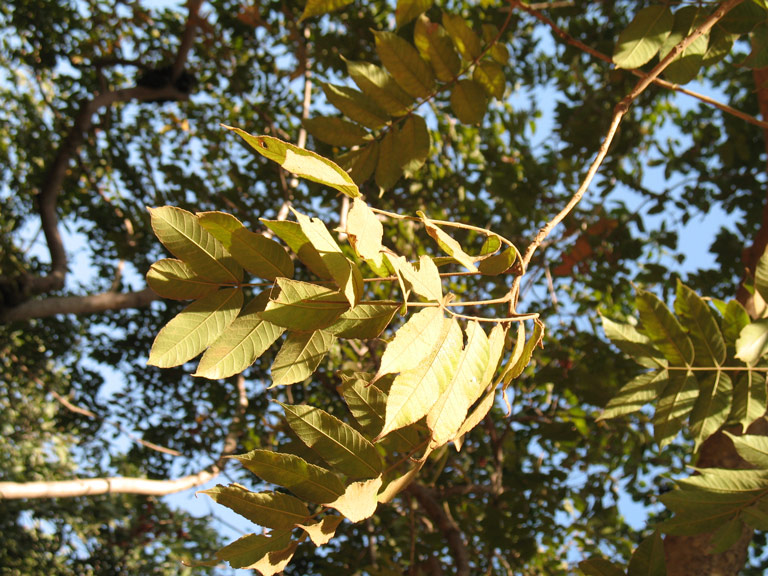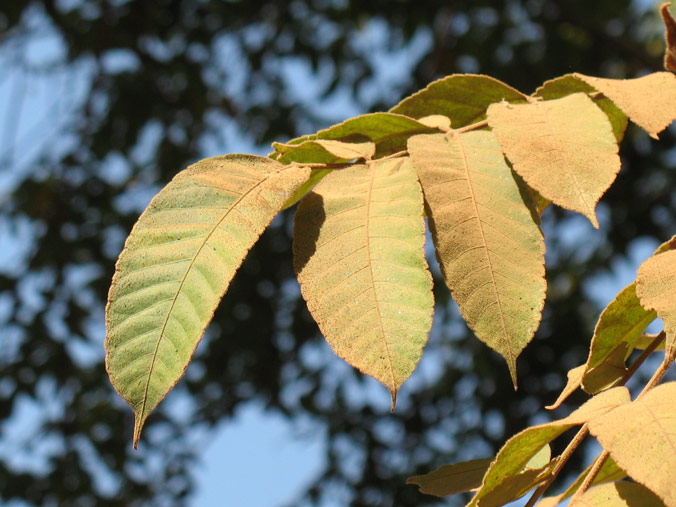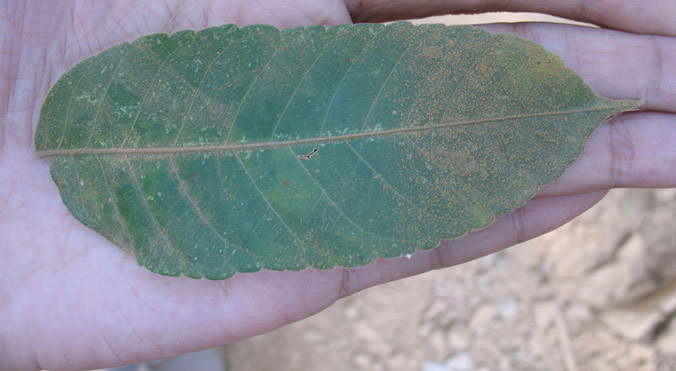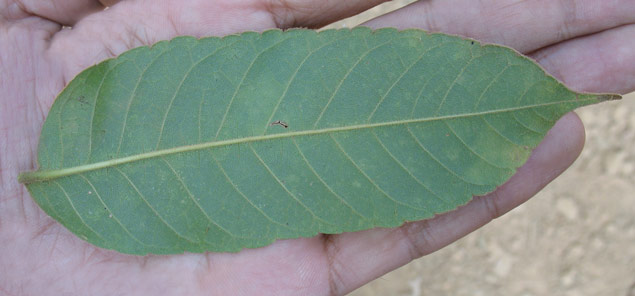 Tree ID request – RK80 – 3-Jan-2013:
Requesting id of this tree from Tungareshwer. Could it be Garuga pinnata? This tree is different from another tree posted by me earlier that was also identified as Garuga.
---
It looks like Garuga pinnata to me.
---
---
Insect Galls :  Attachments (2). 3 posts by 3 authors.
During our trail in Yeoor Forest last Sunday (April 13), came across many trees which were infested with insect galls. These insect galls are the growth on part of a tree (mostly leaves) by some insects. They are the plant tissues which act as habitat as well as food for these insects. These insect galls can be easily mistaken as some fruit when seen from a distance.
---
This is Kakad [Garuga pinnata]. Please check these links :
---
---
Something else? May be Lannaea coromandelica or Garuga pinnata.
---
may be GARUGA PINNATA
---
Garuga pinnata
---
Many thanks for identifying this tree from Corbett.
I take it as Garuga pinnata?
---
---
Habit: Tree
Habitat: Wild
Location: Gazipur
---
Garuga pinnata Roxb. [Burseraceae]. The leaves are infested with galls.
---
---
This tree was densely flowering with no leaves at the time when pics were recorded, shot
from Haryana-Himachal border near Yamunanagar..

I hope this is
Garuga pinnata
, please validate..
---
Yes sir, Garuga pinnata Roxb.
Have seen it flowering around the beginning of March in Maharashtra. Were these pictures taken in June?
---
…, these were recorded in mid April…
Possible. Garuga pinnata flowers have 5 petals [some of yours have 6]. The Stigma is dark green, knob-like and 5-lobed. Sending you some of my photographs for comparison.
---
To me it looks G. pinnata (Burseraceae). It was also flowering here (Pantnagar) in flowering and plants are leafless at the time of flower.
---
From what I've seen, this tree does tend to bear a typical 6-merous flowers. A close-up of such a flower can also be seen in the 2nd photograph of this thread by …
---
---
I am a bit confused about my earlier post.
Had added the first four pictures first, then the last three.
… had confirmed it to be 
Lannea
coromandelica.
Are all the pictures Lannea?

Or the first four are a different tree?
---
The first 3 are Lannea the remaining 4 are Garuga pinnata.
---
Thanks a lot … Aren't Garuga pinnata fruits round, and Lannea coromandelica a bit oblong?
---
The first 4 are Kakad [Garagu pinnata], the remaining three are Moi / Shembat /Shemat/ Odina /Woodier Tree [Lannea coromandalica]. Please check the archives of this group for my photographs of these.
---
---
SK168OCT28-2016:ID
: 4 posts by 3 authors. Attachments
(5)

Sharing some pictures  for ID shot
at Chitwan, Nepal on 10 August 2014 at 600 ft.
---
This is Garuga pinnata of Burseraceae.
---
Garuga pinnata Roxb. (accepted name)
Nepali names: दबदबे Dabadabe / रामसिन Ramasin
---
I'd _Ranjit_ludhiana 5/1 : 5 posts by 4 authors. Attachments (1)
---
Reminds me of Garuga pinnata Roxb. [Burseraceae]. Difficult to be certain in the absence of any context or details.
---
I agree with … This is surely Garuga pinnata..
---
---
Here am attaching some aspects of a beautiful tree Garuga pinnata taken in April 2018…!! Identification credit …
---
---
Today at Sagargad,Alibag
Garuga pinnata
---
Request Tree ID 122 – Siddarabette, Karnataka – RA:
This is on a hill
---
It is quite an interesting plant of Sidderabetta which is known for several rare plants. Floral details like calyx, corolla, stamens and ovary are necessary to identify the family first. If you have these details please send.
---
Are you sure that the leaves are that of the flowering plant? The leaves looks like species of Grewia.
If you have a close up of flower please upload the same.
I don't have close ups of the trees, flowers or leaves. It was bit far even to zoom. The new leaves were just coming up.
Name of species-
Garuga pinnata
Family –
Burseraceae

fairly tall deciduous tree.

Photo taken on-
29,Sept 2011
At-

corbett national park

Description-

with insect galls

 
---
---
---
Wow! Thanks again … for identifying the plant as well as the info. on the leaf galls.
---
---
I think the leaflets of Lannea are with entire margin.
---
to me it is still Garuga pinnata. the younger plant may have glabrous leaves.
---
Please check these links :
.
---
SK 3740 14 June 2023: 5 very high res. images.
Habit : Wild

Spondias pinnata 
(L.fil.) Kurz ???
---
I think looks different as per images at
https://efloraofindia.com/2011/03/31/spondias-pinnata/
Maybe something else.
---
Maybe Garuga pinnata
---
Yes, possible as per images at
https://efloraofindia.com/2011/03/02/garuga-pinnata/
---
.
---
SK 3848 August 2023: 8 high res. images.
Location:  Ghorahi-Lamahi Highway, Dang, West Nepal 
Date: 30 May 2023
Habit : Wild
Garuga pinnata Roxb. ???
---
Yes. You are correct. Its Garuga pinnata
---
References: