---
Heterostemma alatum Wight & Arn. (India (Himalayas, NE-India, Upper Gangetic Plains, Darjeeling), Sikkim, Nepal as per CoL)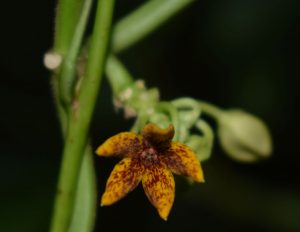 ---
---
---
.
FLOWERING PLANTS OF INDIA, DICOTYLEDONS, Vol-I (Acanthaceae-Avicenniaceae) authored by S. Karthikeyan, M. Sanjappa and S. Moorthy and published by BSI, Kolkata in 2009 is an important document for names, authority and distribution of Asclepiadaceae species in India. As per this document (Karthikeyan et al., 2009) following species of Heterostemma occur in India:
1- Heterostemma alatum Wight
2- H. beddomei (Hook.f.) Swarupan. & Mangaly
3- H. dalzellii Hook.f.
4- H. deccanense (Talbot) Swarupan. & Mangaly
5- H. disciflorum (Hook.f.) Swarupan. & Mangaly
6- H. stellatum Hook.f.
7- H. tanjorense Wight & Arn.
8- H. urceolatum Dalzell
9- H. vasudevanii Swarup & Mangaly

10-
H. wallichii
Wight
---
| | | | | | |
| --- | --- | --- | --- | --- | --- |
| Binomial | Habit | Notes | Ref. | Distrib. | |
Heterostemma tanjorense

Wight & Arn.

Twiner

Dry Evergreen to
Dry Deciduous Forests
Flora of Tamil
Nadu, VOL. II, 1987
Coimbatore,
Madurai, Nilgiri,  Ramanatha puram,
Thanjavur, Tiruchchira ppalli
---
---
| | | |
| --- | --- | --- |
| Botanical name | Family | Common name |
---