Common name: Kashmir Iris • Kashmiri: Mazamond
---
Iris kashmiriana from Kashmir: 3 posts by 3 authors. Attachments (3).
Iris kashmiriana from Kashmir, similar to I. germanica but differing in green (not scarious in upper half) longer 7-9 cm as against up to 5 cm in I. germanica) bracts, white flowers with yellowish claw with white to yellowish beard.
The species is commonly grown in Kashmir.
Several species of Iris are grown to decorate graveyards and as such the common kashmiri name for the genus is Mazamond (Mazar-Graveyard, Mond-root or underground swollen portion; most species are rhizome bearing)
---
Quite an interesting fact
---
Wonderful set of Irises from Kashmir sir and also thank you for all the information.
---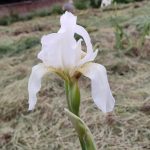 Iris kashmiriana
: 1 image.
---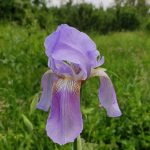 Identification request for this Iris sp. From kashmir.
: 1 high res. image.
---
I think it is Iris kashmiriana only with bluish hue from the one you earlier posted.
Incomplete details. images.
---
.
---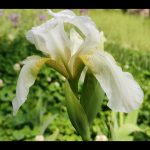 Iris kashmiriana: 1 image.
Mazaar mond in Kashmiri
Thanks … for nice photograph. I have a query: What is the advantage of taking screen shot? I just want to know and adopt if helpful or advantageous
---