China (Fujian, Guangdong, Guangxi, Hainan, Yunnan), Taiwan, Egypt (Desert Oases, Great Southwestern Desert, NE-Egypt, Nile Delta, NW-coastal Egypt), Sinai peninsula (C-Sinai, N-Sinai),

Myanmar [Burma] (Kachin, Sagaing, Shan, Yangon), Nepal

, Philippines, Thailand, Laos, Vietnam,

India, Bangladesh

, Sumatra, Sulawesi, Lesser Sunda Isl., Borneo, Moluccas, New Guinea, Java, Ryukyu Isl., Australia (N-Northern Territory, Queensland), peninsular Malaysia, Singapore (I),

Sri Lanka
as per
Catalogue of Life
;
Common name: Water Primrose, Water Dragon, marshy jasmine • Assamese: pani khutora • Bengali: Keshardam • Kannada: neeru haavu, neerudantu • Malayalam: Nir-charambu • Manipuri: ইসিং কুন্দো Ising kundo • Nepali: Jadelo • Telugu: neeru bachhali, neeti theegalu;
Please Validate if this one is
Ludwigia adscendens
(Linn.) H. Hara, J. Jap. Bot. 28: 291. 1953;
Jussiaea adscendens
Linn., Syst. Nat., ed. 12, 2: 297;
Jussiaea repens
Linn. from family
Onagraceae
.
Was found
along banks of river Yamuna
in District Panipat
on April 3, 2012. I hope the identity is correct…
---
---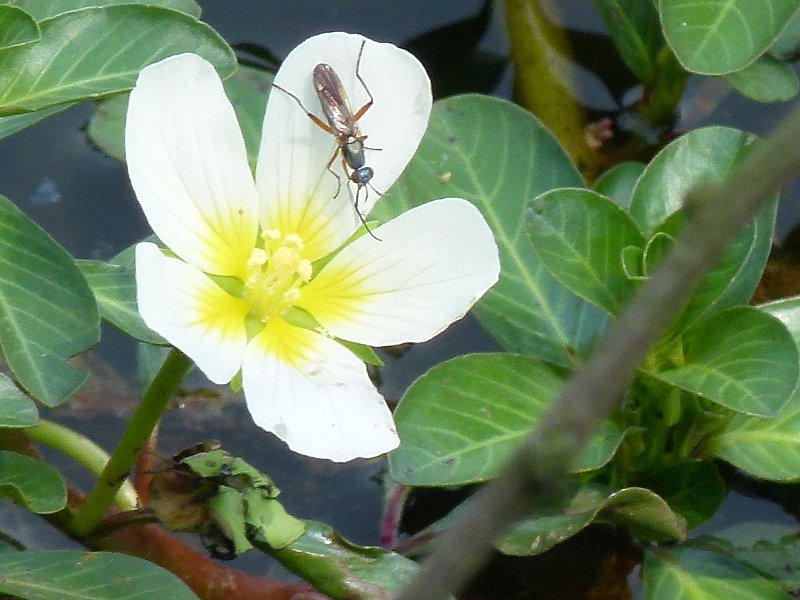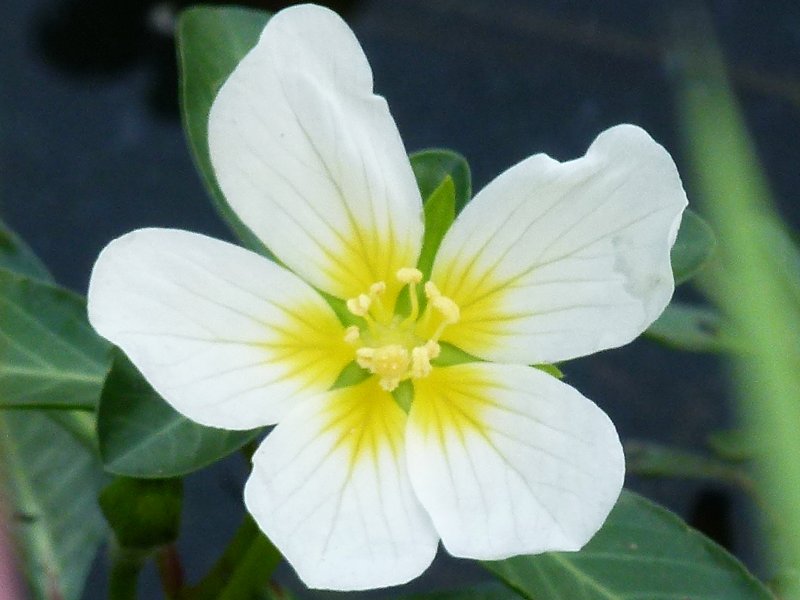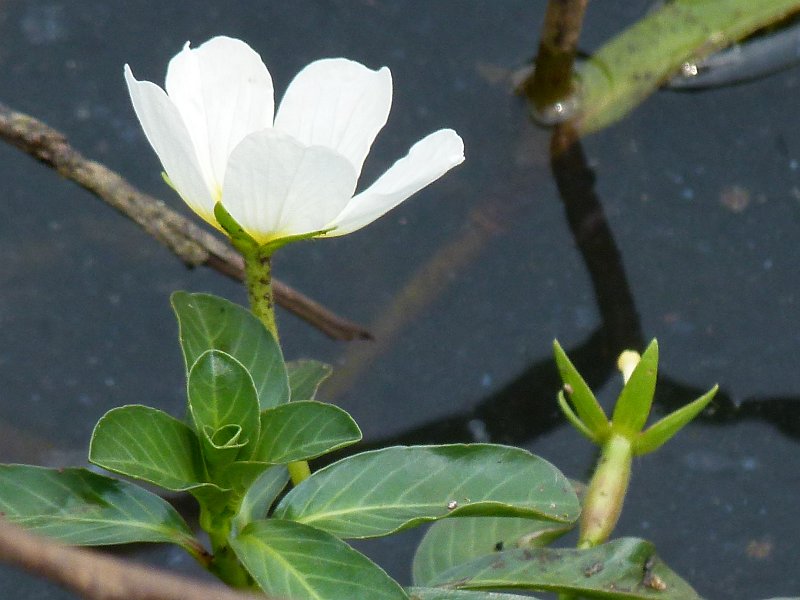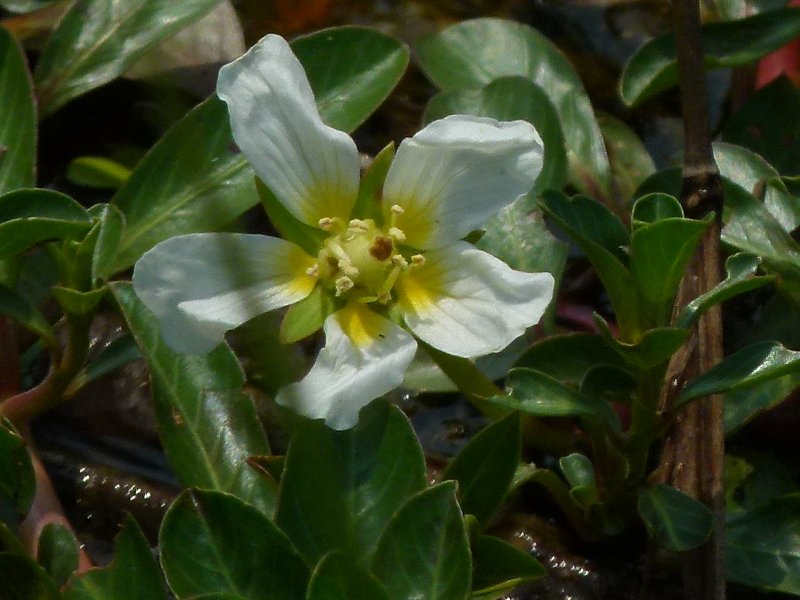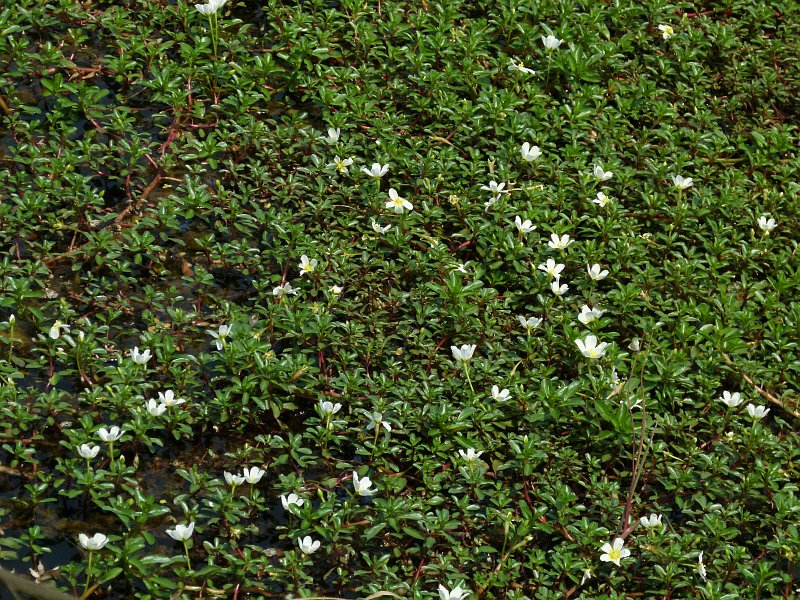 These are, i think, the flowers of the same species, recorded on 13/4/13 in another place. Also attaching fauna found in the same place!
Attachments:
Acisoma_panorpoides_male, spotted_dove_P1010251
& others.
---
---
ANNOV39 Please identify this Ludwigia sp. (Ludwigia adscendens?) : 9 posts by 4 authors. Attachments (3)
Bangalore outskirts
Cattle grazing area, soil is generally wet all the time
15th November 2014
---
'Ludwigia adscendens?'
Likely.
Good quality images.
Can you give some details like:
– was the plant prostrate? well branched?
– stamen count 10 or 8? (stamens on the far side are hidden from view)
-adventitious roots present or not
---
1)
Plant was prostrate and well branched yes. Only the flowering portions 'stuck out' making the the plant noticeable amongst the grass.

2)
Stamen number seems to be 8 and 9 in the flowers I have photographed
. I have attached photos showing clear view of all stamens.
3) this I did not notice about the plant. I will be visiting the same area in a week or so, I will note it then and get back to you.
---
Though flowers should be (creamy) white with yellow at the base of petals (as per my record, and description in old lit. and FoC), yet I agree, seeing available images of yellow flower in the net.
---
Thank you … for the response. My experience is Ludwigia adscendens may not be always found as long trailing/ prostrate herb, erect parts sometimes get detached and found as small erect herb, specially when water level recedes.
---
Yes sir. I had been to the same area today but could not find the plant. Otherwise I would have made sure to check for adventitious roots. And I agree, the plant I found fits your latter description based on what I saw 2 weeks back.
---
---
Ludwigia adscendens
Onagraceae
Jabalpur M.P.
11 Jan 2017
---
---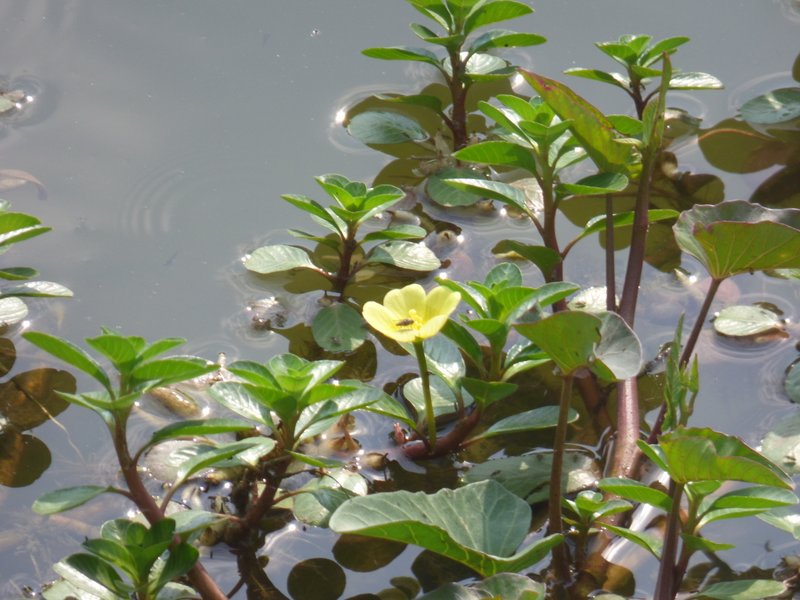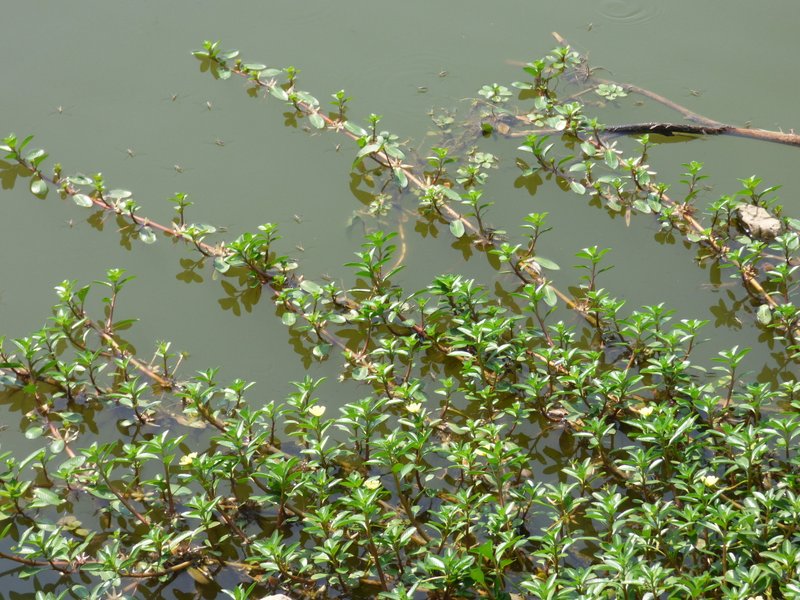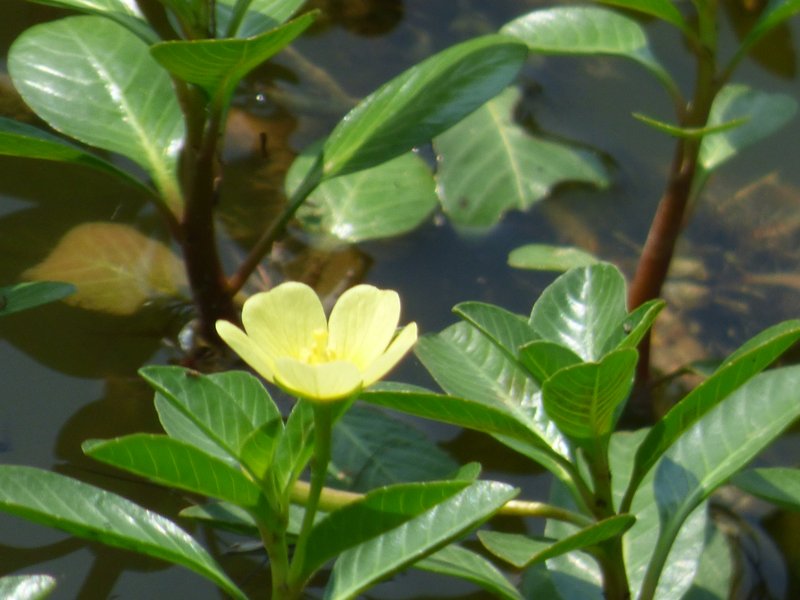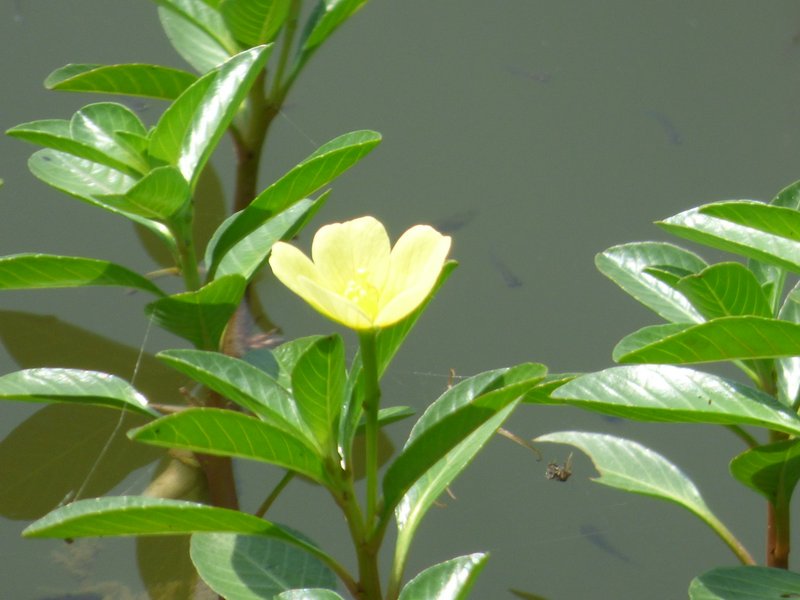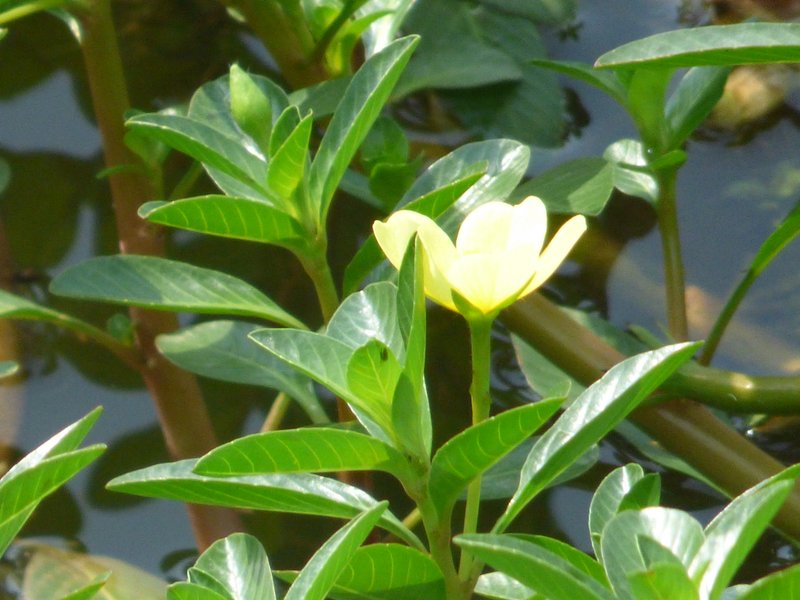 Aquatic Plant For ID : Bangalore : 240418 : AK-4 : 7 posts by 4 authors. Attachments (5)
Aquatic Plant seen in a lake yesterday (23.4.18) with yellow flowers. 
The flowers resembled Portulaca but the leaves looked different.
Could be some Ludwigia Species?
---
Ludwigia adscendens ??
---
L adscendens
---
is it suppose to be  crested snowflakes i.e.
Nymphoided hydrophylla
.
SHot this flower
on the edge of water body
,
near Karjat-Maharashtra
during HSBC Mumbaibirdrace-2009.
---
I believe you and … both are encyclopedia for we immatures.
---
whatever your belief is, the fact is I am both immature and as amateur like you !!
Getting some attempts of identifications correct does not mean anything encyclopeadic !!!! at the most helps
---
---
---
---
---
Picture taken
in Asansol (W.B.)
Date: 31/07/2011 time: 09:17 AM.

Seen growing in marsh fields. Height around 1.1/2 ft..
Flowers are scentless.
---
Ludwigia adscendens of Onagraceae family (Water primrose)
---
This plant is probably Ludwigia adscendens formerly called as Jussiea.
---
---
Aquatic plant from Chennai -3:
Location: Chennai – polluted rivers/lakes
Date : October 2011
---
Sir ji I think you are correct of this plant being Jussiaea repens
---
But Jussiaea repens leaves look linear and bit different to this one.
---
Appears to be Ludwigia adscendens
---
---
Attaching a collage of
Jussiaea repens
(
KESAR-DAM/ MALCHA
).
Its an aquatic plant
with beautiful white flowers.
---
yes. very well shown
---
I think it's correct…..  Ludwigia adscendens (L.) H.Hara(=Jussiaea repens L.),
---
.
---
I'd of Jussiaea: 2 images.
Request for I'd of Jussiaea growing in a water body in Bilaspur. Photographed in Janyary 2023.
---
Ludwigia adscendens (L.) Hara !
References: